The aim of this guide is to help you remove spammy backlinks from your store. This usually occurs when you hire a Search Engine Optimization agency.
In order for your eCommerce store to stand out from the crowd and get a higher ranking in Google search results, it needs to have a good number of visitors. And many of these visitors will come in through links from other websites.
These are commonly referred to as "backlinks".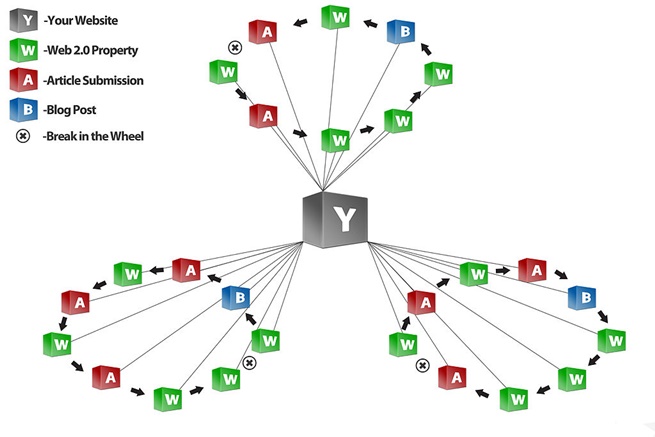 What Is A Backlink?
A backlink is a term used to describe a link in a web page that is directing to a specific web page from another website.
This is important in Search Engine Optimisation because backlinks are used by Google to determine web page ranking when they give search results to people.
When you get a lot of backlinks, that means your site is popular and will likely appear first on the Google search results, or at least higher in the list than your competitors. Thanks to Google, this will give you more and more visitors too.
BUT, these backlinks needs to be good backlinks from a quality website.
Backlink Example 1
Backlink Example 2

Wikipedia's definition of backlinks:
Backlinks, also known as incoming links, inbound links, inlinks, and inward links, are incoming links to a website or web page. In basic link terminology, a backlink is any link received by a web page from another web page.

Inbound links were originally important (before the emergence of search engines) as a primary means of web navigation; today, their significance lies in search engine optimization (SEO).

The number of backlinks is one indication of the popularity or importance of that website or page (for example, this is used by Google to determine the PageRank of a webpage).

Outside of SEO, the backlinks of a webpage indicate who is paying attention to that page.
How Do You Get Backlinks?
Good quality content will naturally attract backlinks. However, given the importance of backlinks in promoting your store and attracting more visitors many store owners are tempted to create an artificial backlink profile.
As such, some eCommerce stores hire the services of a Search Engine Optimisation (SEO) agency to create links from other websites into their clients' websites in order to increase the volume of visitors.
Many SEO agencies create "bad" backlinks because they're easier to get than the "good" backlinks which take much longer to build. These bad backlinks are usually spam links and are of low quality.
This video below is from Google's Spam guru Matt Cutts. He talks about "good" and "bad" links. He states that "good" links will stand the test of time. Google (the most used search engine today) does not encourage spam.
They're getting better at detecting these types of poor backlinking work so spam links are less likely to work this time.
When your store gets lots and lots of bad links, this will ruin your search rankings.
The video gives us a very good message that there's still a chance to improve your rankings and avoid bad backlinks by using free tools and resources online to detect bad or spammy backlinks and disavowing them.
Here is Google's advice on how to improve search engine rankings:
Make a great user experience
Make sure people link to you because you've got a fantastic site
Come up with something compelling
Where You Can Get Good Quality Backlinks
Good backlinks are never done the lazy way as this requires a lot of quality thinking and input from the content writers.
Not only that, it should be relevant to what you are offering on your eCommerce store.
There are people who liberately create backlinks for you as they need these for the benefit of their own website, but we cannot rely on that alone, we can also take action to improve backlinking to our stores.
Here are some examples of where you can get good backlinks:
Good backlinks come from real-world business partners, affiliates or organizations who naturally promote your website from their own related websites.
It could also be a relevant content from an authentic blogger or a competitor reviewing or evaluating your product/service.
You can participate in forums or discussions that talk about subjects that are related to your products.
If you hire an SEO Agency to do backlinking, make sure that you ask them their process about how they're going to create backlinks as it is a common tactic to create artificial or fake blogs.
How Do You Get Bad Backlinks?
You might not have noticed, but some bad backlinks might have been created to link to your store. Bad backlinks are usually created by people "just for the sake"of having a backlink that will push their sites up through the Google search results.
When store owners get desperate for more visitor traffic and sales, hiring someone to do SEO seems like a good option.
SEO agencies commonly create hundreds of blogs and sites so they can put their clients link on them. And their clients get to pay them for these backlinks. Usually you find bad back links from:
Paid links, where you swap money for a link to your store. (This is now heavily penalized by Google.)
"Add Your Site" type directories

Fabricated guest post links from blogs owned by the SEO company

Article spinning services

Poor quality guest post articles
Paid press release submission to directories
Free press release submission to directories
Most of the time, they aren't useful links. It's something like a shortcut in getting more backlinks and having good search rankings in Google.
But since Google now has ways of excluding bad backlinks and lowering your Pagerank, you should regularly check your eCommerce store and identify which of your backlinks are not good for your store.
Most people will consider hiring someone for links and get higher rankings in Google. Here's another video from Matt Cutts talking about paid links so you'll have an idea how Google is assessing paid links.
How Do You Know If It's A Bad Backlink?
You can usually use your common sense to judge whether a link is a good backlink or a bad backlink.
To begin with, ask yourself "Does this website linking to my website look like a high quality website?"
If you're not sure you simply need to click and have a look of each of these links, and check if it's one of the following:
The website has a lot of other information on topics that are completely unrelated to your store
A website that is asking for money in return for a link; this is a paid link
SEO directory pages/services that have a low quality content
Spammy looking blogs, or fake blogs with very poor writing and boring content.
Websites with rough design templates that are very generic
Blogs that have no design appeal
Websites with no About pages or clearly identifying information
Examples of Bad Backlinks
Example 1: an SEO directory with lots of categories of links and advertising.
Example 2. Obvious SEO URL with low quality content, and unrelated tags.
Example 3. Fake blogs with bad design templates, poor grammar and boring content
How Do You Make A List Of Bad Backlinks?
Step 1. Gather All Backlinks From Different Backlinking Tools
There are online tools that you can use to find all your backlinks. There is no way of getting a complete list from just a single tool.
You can use these three tools to help you get started. If you need a complete list, you may need to get a professional involved.
http://www.opensiteexplorer.org/
Step 2. Save All Backlinks You've Gathered Into A Spreadsheet
Once you've gathered all backlinks from the online tools, get a list from all the tools and combine in a spreadsheet so you can track it as you go through them.
Step 3. Go Through All The Links
Once you have the list, go through each of them and check the websites. You can mark them as "good" or "bad" using the criteria above.
How Do You Get Rid Of The Bad Backlinks?
If you paid someone to create links for you, and you didn't know that they were "bad" backlinks, then you need to ask them to get all those links removed from being associated with your store.
If this is not an option, then you have to go to every website and ask them to delist or delete the link to your store.
If you already get in touch to these websites and all the reach outs doesn't work and they don't respond, you can go ahead and use Google's Disavow Tool. This means Google will ignore these links when they assess your eCommerce store.
Once they're removed, you do not need to worry about them harming your eCommerce store. Check your backlinks regularly to check if more backlinks are needed and to ensure that third party stores are not pulling your search rankings down.