Customer feedback is very important to every eCommerce store owner. As much as possible, we want to keep our customers happy with our products and services. And to know what they think is very valuable as this creates a growing relationship with them.
Aside from making them feel that their thoughts are valued through feedback, this also helps the store improve.
Through customer feedback, we can gather information that:
Allows us to discover why customers purchase from us
Shows what is important for the customers
Shows the factors that affects their purchasing decisions
Let us know what gives them satisfactions and/or dissatisfaction
Highlight any area of the store that needs improvement
Will improve our products and services
And when we learn and take actions from all of these feedback from customers, the store could generate more and many more satisfied and happy customers.
A happy customer is indeed a loyal customer.
And these types of customers spread stories of their good experiences from you. And this will keep the store growing.
To collect feedback information from them, we need to create a survey that a customer can fill out. We can then read their answers, and learn from their opinions.
Now gathering feedback from customers comes handy with a great help from Google Docs. It is free and very easy to use. Here are simple and straightforward steps that you can follow so you can create your very own Google Feedback Survey form for your store.
How To Create Feedback Survey With Google Docs
Before anything else, make sure you have all your survey questions prepared and listed. Then follow these steps to create your Google Survey form:
Step 1. Go to drive.google.com using your store's Gmail account login.
Step 2. Click on Create and select Form from the list.
Step 3. Click on Get Started button.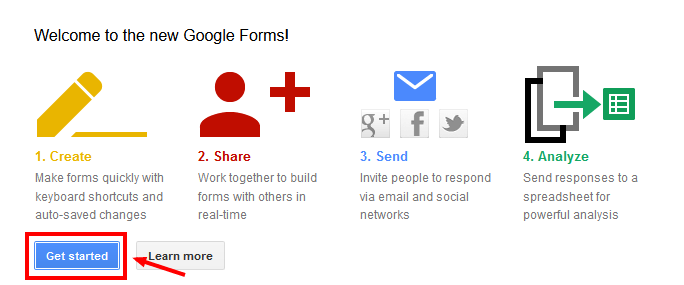 Step 4. Choose a title that fits your store and a theme that complements your store's theme or atleast closely to your store's theme. Make sure you choose a theme that does not contradict the type of store that you have. Like if you sell wedding gowns, a form with book as theme would be inappropriate and vice versa.
Step 5. Set the form settings according to your preferences.
Step 6. Once that is done, you can then add your survey questions as well as the answer options that customers can choose from.
Step 7. Then set Advanced Settings (only if necessary). Set the at most number of options that the customer can choose. Then set a custom error text once they reached the limit. Click on Done when you're satisfied.
Step 8. Once you're done with your first survey question, repeat the process by clicking on Add Item and then do steps 6/7 again to add more survey questions.
Step 9. When you're done adding all your survey questions, create a Form description at the top of the page.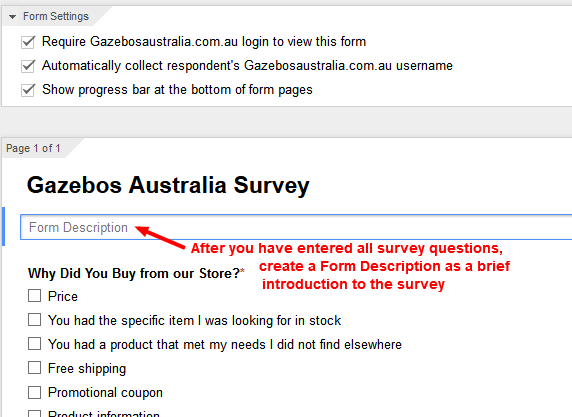 Step 10. Then click on Send Form button. Now you're survey form is ready to be shared and ready to be used for your data collection. Then click on Done.
Your Google Surveys can be shared to your customers in 3 different ways. You may select any of these depending on your preference or convenience. Then click on Send once you're done.
Email
Embedded on your store's page
Link that can be shared
Step 11. Then it will give you an option to choose which response destination to use. Select New spreadsheet and click on Create button.
Step 12. The Spreadsheet will then be available for you to view.
Survey Sample
Here is the Sample Google Survey form for Gazebos Australia:
https://docs.google.com/forms/d/1rKw17pfq_eMMdTyRDPtuxhSe7fPq34PVCyFvuSRsTQA/viewform?c=0&w=1
Now you have your very own Feedback Survey form you can use for your store. Easy and efficient!
SHARE YOUR EXPERTISE in the comments section. The best suggestions get upvoted and included in new guide releases.
Share on Facebook