The aim of this guide is to help store owners understand the purpose behind choosing keywords for their SEO efforts, as well as understand the attributes those keywords need to have and how to do the whole process.
The most important attribute for store owners is a keyword value. A keyword is valuable if it leads to a sale. You can also deem it as valuable if it leads to a sign-up, newsletter opt-in, pdf download or if it's sticky (meaning people are staying longer on your site, exploring multiple pages, low Bounce Rates, etc.).
Store owners are often falling into a trap of the most popular keywords but are not looking at their value. Therefore, it's important to have web analytics installed so you can track visitors' actions after coming to your site by certain keywords.
SEO changed over the last few years and it became increasingly harder to rank for keywords. We see new store owners trying to rank for longer and longer keywords because shorter, more generic keywords are already too hard to rank. Mind the keyword difficulty when considering it.
Your keyword list can change over time so be sure to revisit this process or some steps of this process after some time. You may find that there are new opportunities and decide to change your SEO strategy. But, be patient with the keywords you choose because ranking highly for keywords can be a long process (often up to 6 months).
With those change in SEO difficulty, we recommend using as specific keywords as possible. That means if you have a store that sells products of other brands, you should try and rank for brand specific keywords and avoid more generic keywords (levi jeans boston, samsung galaxy s5, strathmore handmade paper, etc.).
If you have a store with your own brand, then you will have to choose more organic keywords (buy jeans in boston, affordable handmade paper, etc.). Keep in mind the keyword difficulty.
The process for those kinds of stores will not differ but the lists will be different. In our examples, we will use a store that is a combination of those two so you will see both sides.
Keyword research is not an exact science. This is only one way to do it. Many SEO experts are using different tools so their process is different. You don't have to stick to these steps exactly. The important thing is to get a few ideas of where you can find keywords variations you might not think of and understand the purpose behind this process.
Step 1: Write Down Keywords You Would Use to Find Your Products
Open your spreadsheet program and type in the most generic keywords you would use to find your store of products. Those will probably be your product categories, brands, phrases with location, etc.
Own-brand stores will probably choose keywords that are more generic where stores that sell other brands will be better off choosing branded keywords. You don't have to think about keyword difficulty at this point. Just choose the most relevant and natural keywords.
This list will be used to find other, most probably longer variations. Save your spreadsheet file so you can revisit this list later.
Step 2: List All Your Products per Category
Ideally, you will have the desired keywords for all your pages. If you have hundreds or thousands of products you will probably not be able to work on SEO for all of them. It would require a lot of resources.
However, it's important not to make any judgments in the beginning. Just list all your products. It doesn't matter if you think some of those will not be worth the effort. The results of this process can surprise you and you might find a fantastic keyword for one of those products.
Put all your products in an existing file. You can separate your products by categories in different sheets. That will make your navigation through the file easier.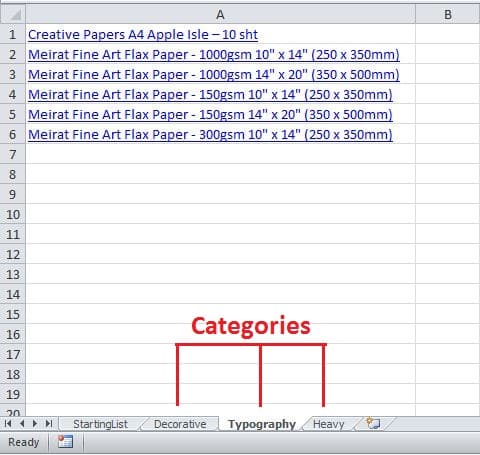 All those products should have dedicated pages with description, prices, availability and all the other information a product page must have. At the end of this process, we will find keywords to pair them with those pages. After investing some SEO effort into it, you will start ranking higher for those products.
Step 3: List All Keywords Mentioned on Bing and Google Related Searches
This is the first step where you are searching for new keyword variations. You simply cannot think of all variations yourself so it's important to do these kinds of steps. It will help you uncover keywords for your pages.
Visit Google and type the first keyword from your starting list (Step 1). Scroll to the bottom of the page and see related searches.
Copy those keywords to your spreadsheet. Repeat this process with all your keywords from Step 1.
Do the same thing on Bing. Scroll down and see related searches. Do this for all keywords from step 1 and copy them to your list.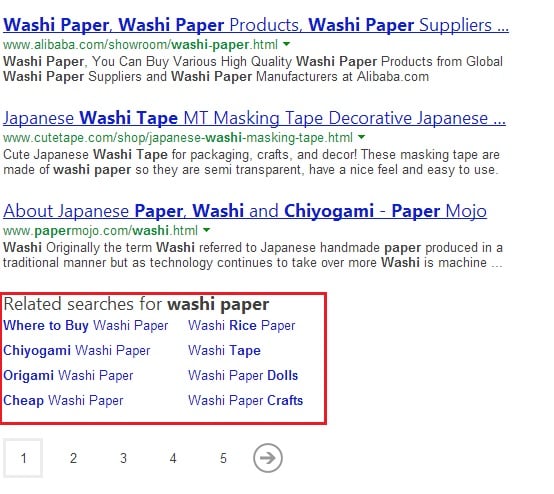 Be careful about the relevancy of your keywords. Don't copy the ones that are not because you are just polluting your list and losing time on keywords that you won't use anyway. You will probably have over a hundred keyword combinations by this point.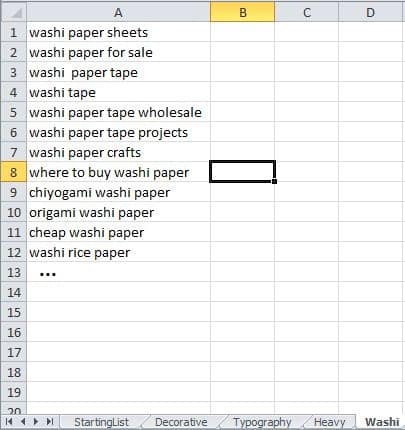 Step 4: Use Research Tools to See Your Competitors' Link Anchor Text
As part of your competitors' SEO strategy will probably be an optimization of the link anchor text. There are tools to help us uncover this text. At this point, you just need to have a few competitors on your mind.
Seeing link anchor text helps you see what your competitors chose to invest in. That means those keywords proved valuable. Those kinds of keywords are certainly something that you need to be interested in and evaluate further in this process.
You can do this just by typing in their URL in tools that do that. Free ones are LinkDiagnosis and Backlink Watch. If you want faster or more sophisticated tools, use MajesticSEO or Open Site Explorer. There are many other tools that do the same so feel free to search for them if you don't like any of these. Not all of them are 100% accurate.

Put those keywords in your spreadsheet. Organize them however you see fit. It's only important that you know how to navigate through this document when you revisit it.
Step 5: Put Those Keywords in Tools Like Ubersuggest to Find Other Variations
Ubersuggest is just one of the tools specialized to help you get variations you haven't thought about yourself.
Be thorough because you may find great opportunities there. It is sometimes very monotonous and requires a lot of focus but stick to it so you don't miss on any good keyword variations.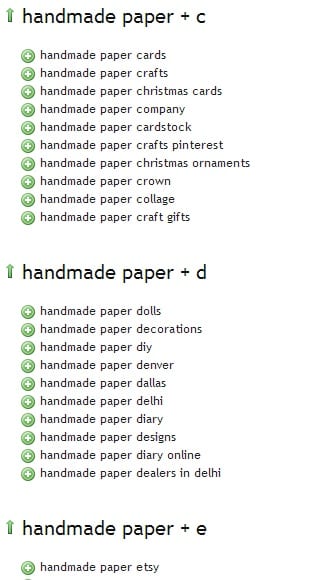 You can use other tools like Google Keyword Planner and Free Keyword Tool from Wordstream. You are free to search for other ones and use as many as you like.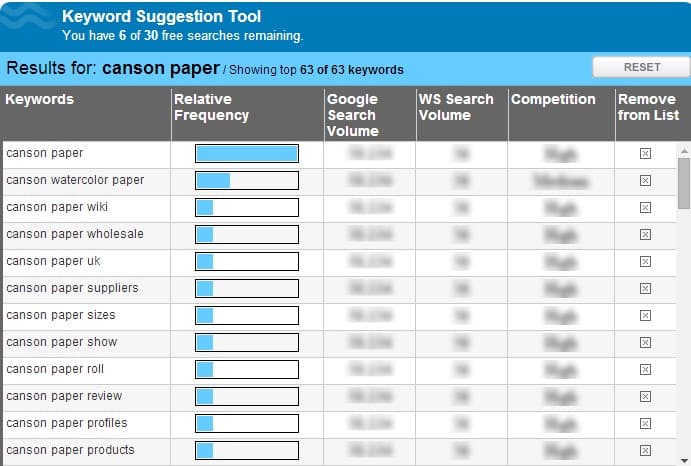 Download and consider only relevant keywords. Don't pollute your list with irrelevant keywords. Put those keywords in your spreadsheet. Organize your spreadsheet as you like.
Step 6: Download Search Queries from Google Analytics or Webmaster Tools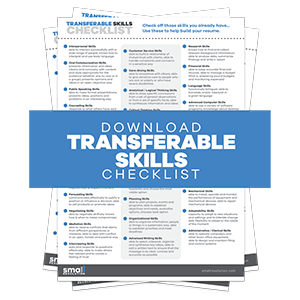 This step is optional because you might not have web analytics tools in place already. If you don't, we strongly recommend using one. It's the only way to know for sure which keywords are valuable.
Majority of those tools will have a list of search queries. Search query is a phrase a user typed in a search engine before coming to your site.
This is arguably the most valuable source of keywords because those reports tell you exactly what users typed. You don't have to guess what was on their mind, they tell you exactly. The purpose is to find new keyword variations and understand your potential customers.
The reason why this list even exists is that you are already ranking for those keywords. Most probably, your position is very poor and those searchers just dug deep to find you. With a little effort, you want to improve your ranking for those valuable keywords.
Log in to your Google Analytics account. Set up your time window to go back at least 90 days. On the left-hand side of the screen navigate to Acquisition -> Keywords -> Organic.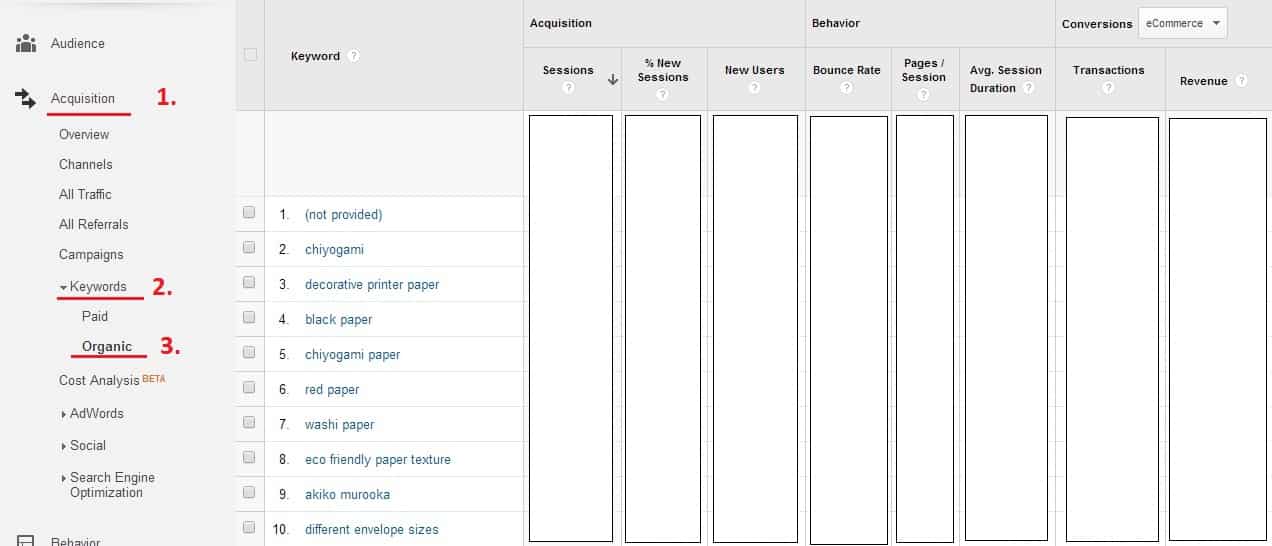 Log in to your Webmaster tools account. Set up your time window to go back at least 90 days. On the left-hand side of the screen navigate to Search Traffic > Search Queries.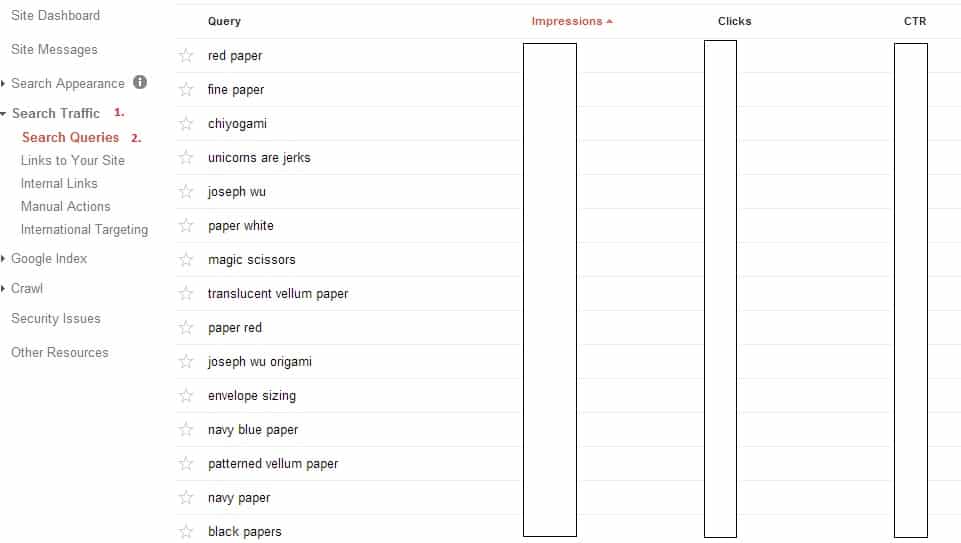 Download query lists from both tools and organize them in your spreadsheet as you like.
Step 7: Use Tools Like Google Keyword Planner to See Metrics Related to Your Keywords and Find More Keywords
Now that you have a fair number of keywords you want to somehow evaluate them. Relevancy to your pages isn't the only criteria even though it's an absolute requirement.
You are interested in relevancy, volume and competition. Relevancy is self-explanatory. If the keyword describes your page truthfully then it's relevant.
Good search volume depends on the vertical you are in. Some businesses require a lot of small sales to stay viable whereas others only need a small number of big sales. Take that into consideration when evaluating search volume.
Competition is a strong indicator of profitability. You already know about margins but if you see more competition on a keyword you know there is a way to stay profitable even with more resources allocated to advertising. This is why we recommend looking at only mid to high competition levels.
Go to Google Keyword Planner and create an account if you have to. Click on the "Search for new keyword and ad group ideas". Copy and paste your keywords into the text field. Set up your location and language. Leave everything else as it is. Click on "Get ideas".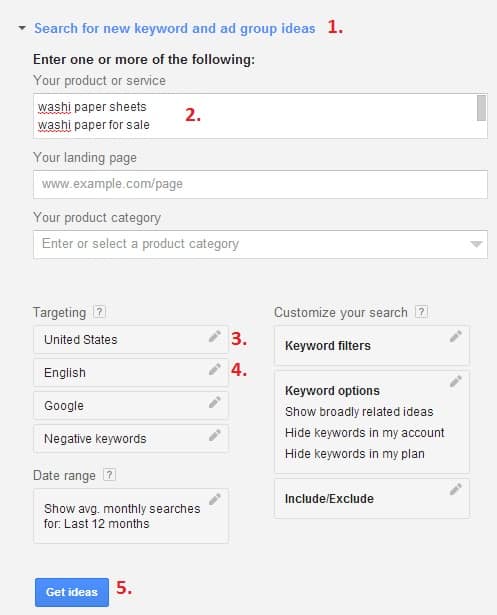 Click on "Keyword ideas" on the next page. Your pasted keywords will be on top. Lower you can find more suggestions from Google. Take notice of Avg. monthly searches and Competition columns. We will use those later.
Find download buttons and download your keywords in CSV format. You can merge your files into one so you have everything in one place. Organize the file as you see fit.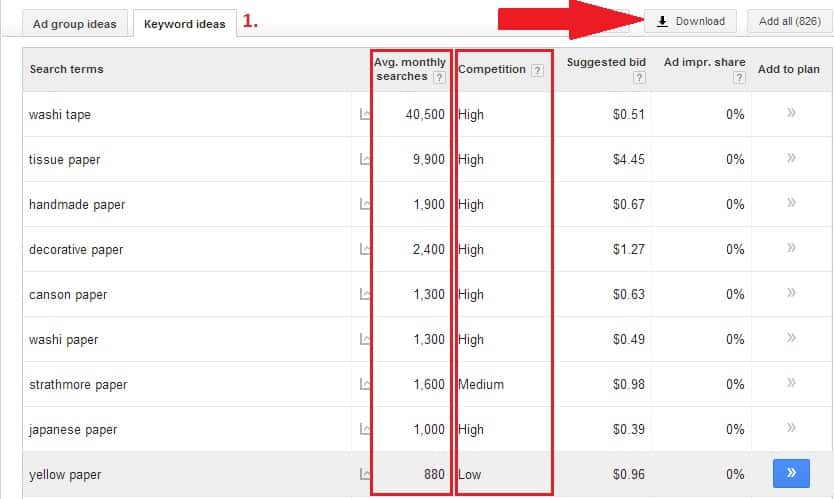 Step 8: Find Best Keywords in Terms of Relevancy and Metrics
Open the file with keywords from Google Keyword Planner. You can now remove all columns that we don't need at this point. You only need Keyword, Avg. Monthly Searches and Competition.
Keep in mind that the Competition column describes competitiveness in AdWords. This doesn't tell you anything about how hard it would be to rank with SEO. Use this only as an indicator of profitability.
Use filters in Excel or any other spreadsheet application to remove low competition and low volume keywords. Remove all competition lower than 0.34 and volume depending on the vertical.

Go through the list and remove all irrelevant keywords as you don't want to take those into considerations at all.
Use tools like Keyword Ranking Difficulty check to eliminate all keywords that are going to be too hard to rank for. Keep in mind that some of these tools are not 100% accurate.
Now you have a list of relevant keywords with reasonable volume and competition levels.
Step 9: Check Upward or Downward Keyword Trend Using Google Trends
Go to Google Trends and type in keywords from your list. You will get a graph of the volume certain keyword had over time. You will see whether keywords are trending up or down. Ideally, they are trending up or at least are not trending down heavily.
This is important because you don't want to invest in some keywords for the next few months if that keyword is losing popularity rapidly. It doesn't matter if you are ranked high when people just stopped searching for it.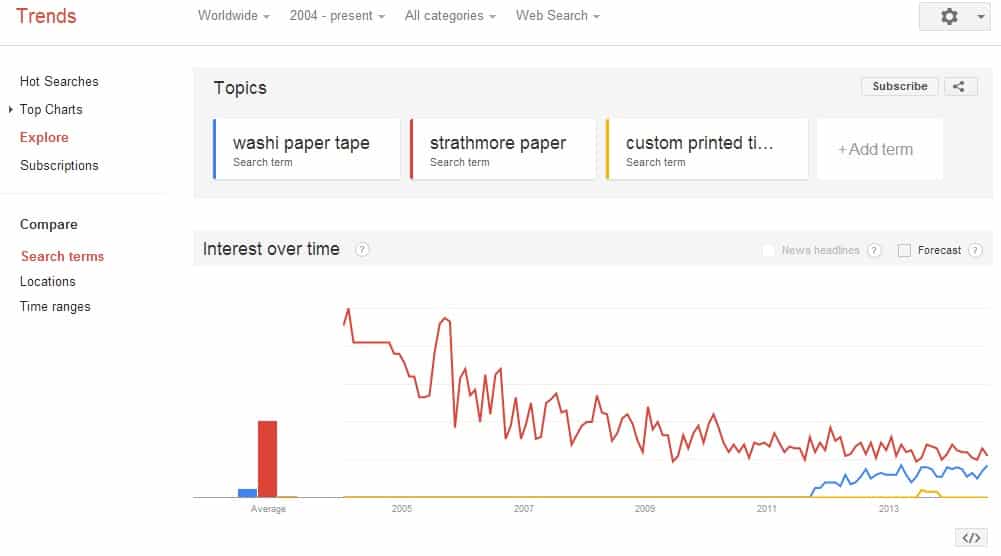 You can add another column to your keyword list to type in if a certain keyword is trending up or down.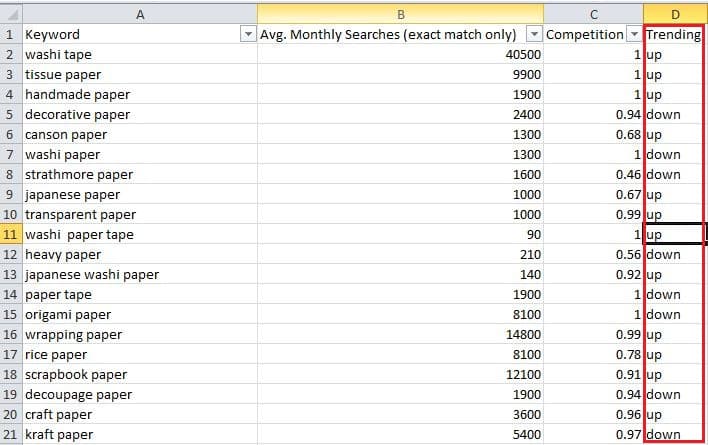 Step 10: Pair Those Keywords with Pages on Your Site
Now that you have the most important data you are ready to pair them with your pages. Relevancy is the most important thing. If you pair your page with irrelevant keyword and get a lot of traffic, it just won't result in sales because you are getting people that are searching for something else.
You will start doing on-site SEO for the chosen keyword-page pairs. Be careful about keyword stuffing and unnatural language in general.
Think about using the best keywords for the best products. You ideally want to get a lot of traffic to your best sellers simply because you want them to purchase as much as possible. Don't forget to pair your homepage and category pages with good keywords.
If you don't have enough resources try focusing only on the best keywords and pages. Most probably the majority of your sales comes from a smaller number of products. Use this as a guideline for effort allocation in SEO too.
Final Checklist
To give you a short summary of everything we explained in this guide, here is a short checklist to put everything in perspective:
Write down keywords you would use to find your products
List all your products per category
List all keywords mentioned on Bing and Google related searches
Use research tools to see your competitors' link anchor text
Put those keywords in tools like Ubersuggest to find other variations
Download search queries from Google Analytics or Webmaster Tools
Use tools like Google Keyword Planner to see metrics related to your keywords and find more keywords
Find the best keywords in terms of relevancy and metrics
Check upward or downward keyword trend using Google Trends
Pair those keywords with pages on your site
You need this how-to guide to understand the purpose of finding relevant and valuable keywords for SEO strategy. That will help you to start allocating some resources into ranking better on search engines, resulting in more relevant visitors, more understanding of your customers and ultimately, leading to more profitable sales.
Photo by Startup Stock Photos