An American transcriber makes an average of $15 per hour, which is twice as much as the country's minimum wage.
Lucrative as it sounds, transcription has even more added benefits:
A flexible work schedule: As an online job, transcription allows you to set up your own working hours, whether day or night, home or away.
Endless job opportunities: With the necessary skills, anyone can get a transcription job, from stay-at-home parents to college students and retirees.
An outstanding work-life balance: Transcription allows you to take charge of your personal and career calendars.
Tremendous knowledge increase: You'll learn how to use different software, hardware, and conduct extensive research on various topics.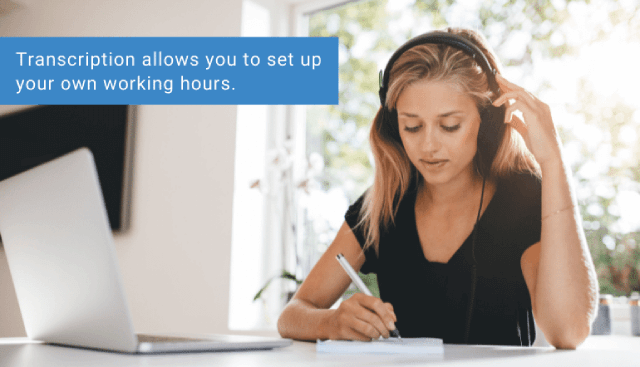 You can learn the skills needed for transcription pretty quickly in your free time. That's because online learning platforms like Small Revolution and Udemy offer extensive online transcription courses to help you land a well-paying transcription job.
For instance, Small Revolution's Basic English Skills course (while not necessarily a transcription course) will help you improve your English skills, as you'll need proficiency in listening to the English audio provided.
Below are 4 transcription courses best for acquiring the relevant transcription skills:
1: How to Become a Transcriptionist (Udemy)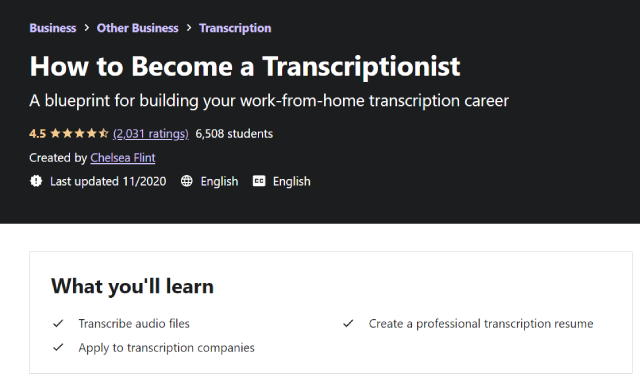 Chelsie Flint's How to Become a Transcriptionist Udemy course provides an excellent blueprint for building your transcription career.
As a professional transcriptionist for hundreds of podcasts, speeches, interviews, and forums, Chelsie shares a plethora of techniques that have helped her build her transcription career and offers tips to escape the trap of working for very low-paying clients.
After watching all 22 screencast video lessons, you'll have gained enough skills to get ready for the transcription industry and have the upper hand in landing lucrative gigs.
This means you will:
Learn the basic principles for transcription
Know how to create a professional transcription resume that sells
Strengthen your basic grammar and typing skills
Discover effective transcription techniques and strategies
Learn ways to apply to high-paying transcription companies
Know how to use transcription software like Express Scribe
The course also includes three test files to enable you to practice transcription firsthand. Even better, Chelsie will help you find subcontracting transcription companies to jump-start your transcription career.
2: Learn How To Transcribe (Skillshare)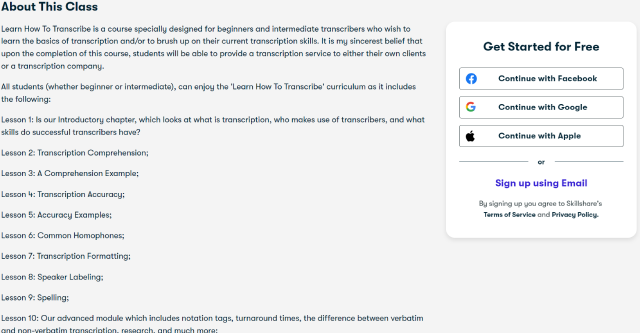 Learn How To Transcribe is an outstanding online transcription course for those starting out or looking to advance their skills.
The course contains 13 lessons, all condensed into a 1h 22 min video, with the first 3 lessons focusing on understanding transcription in its simplest form.
The next 7 lessons dig deeper into transcription with valuable insights on transcription accuracy and formatting, common homophones, key transcription skills, and more. In the last 3 lessons, Roux handles more complex topics like notation tags and transcription tools.
By the end of this course, Roux is confident that you'll be able to offer your transcription services to a well-paying transcription company.
Related: Little Known Work-at-Home Transcription Jobs
3: Step-by-Step Transcription from Home – Start A New Career (Udemy)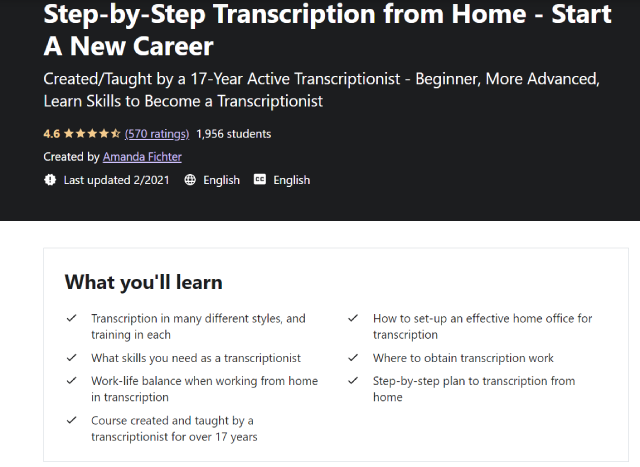 Step-by-Step Transcription from Home is an outstanding online transcription course for those starting out or looking to advance their skills.
The course's tutor, Amanda Fitcher, is a self-employed transcriptionist who has been working from her home transcription office for the past 17+ years. She understands what it takes to set up and succeed in such a remote setting.
Throughout the 2-hour course, Amanda teaches you how to be a professional home transcriber; covering relevant topics such as the different transcription styles, maintaining a work-life balance, getting high-paying transcription clients, and evaluating various niches like medical or legal transcription.
By the end of the course, you'll have learned critical transcription skills, including:
The core fundamentals of transcription
Familiarity with transcription software and equipment
Practical transcription styles
Effective skills for audio transcription
Upon completion, just like any other Udemy transcription course, you'll receive a certificate which you can share with your networks.
Expert Tip: Amanda offers valuable insights on transcription, particularly for home transcribers, making this course perfect for stay-at-home parents, job seekers working solely from home, or parents looking for ways their children can earn money.
See Also: 6 Easy Job Ideas for 12-Year-Olds
4: Transcription Skills – Learn Beginning to Advanced Skills (Udemy)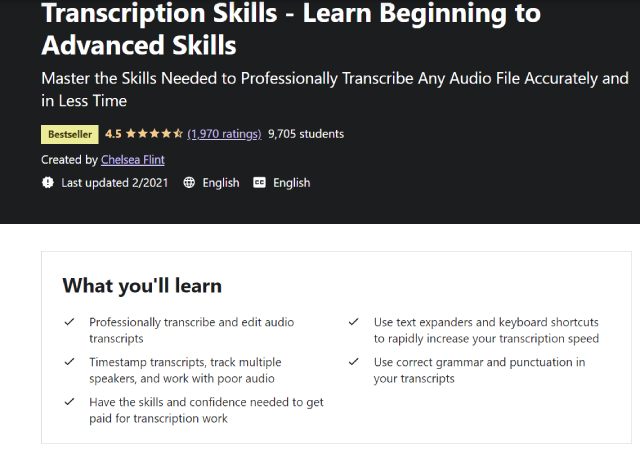 Transcription Skills– Learn Beginning to Advanced Skills is another Chelsie Flint masterpiece, focusing on critical transcription skills to help you master transcription and create professional, accurate transcripts in no time.
In the 1 ½ hour-long course, Flint takes you through all you need to become competent in transcription, focusing on beginners starting out and intermediates looking to advance their transcription skills.
The course includes 20 video lessons, 39 downloadable resources, 8 articles, and 2 practice tests, all centered on equipping you with these essential transcription skills:
Mastering grammar and punctuation
Learning time stamping and tracking speakers in audio files
Knowing how to use Express Scribe
Cleaning up noisy audio
Discovering critical transcription tools and techniques
So far, 9,646 students have taken this course and left 1,961 reviews. The course's overall rating stands at 4.5 out of 5 stars, implying that many students enjoy it.
Let's see what some of the students had to say about the course:
I enjoyed this very much. I will recommend it to anyone seeking to take a transcription course…

Becorath F
As a beginner, I understood everything because the lecturer spoke with clarity… Thank you.

Esther G
Well-structured syllabus with additional insights. To learn from an experienced transcriptionist makes it even better…

Sampaul C
Time to Enroll for Your Online Transcription Course
If you're looking to venture into a lucrative transcription job, the first step is knowing how to transcribe. Online learning platforms like Udemy offer endless transcription courses that will help kick start your transcription career.
With more than 130,000 online courses and 40+ million students, Udemy has become one of the largest e-learning platforms, educating students from the furthest ends of the world.
Udemy's courses are affordable, starting at $10.99, while others are entirely free. This makes it ideal even when you're on a low budget.
The platform also provides lifetime access to every course purchased. And because these courses are flexible, you can complete them conveniently from home during your free time.
Some transcription courses like How to Become a Medical Transcriptionist are niche-specific, while others like How to Make Transcription Easier for You apply to general transcription.
So enroll today to begin your transcription career.
Did You Know? Niching down to a specific field can earn you a better salary than a general transcriber, as evident in the table below:
| | | |
| --- | --- | --- |
| Job Title | Annual Earnings (approx) | Hourly Earnings (approx) |
| General Transcriptionist | $27,000 | $15 |
| Medical Transcriptionist | $33,380 | $16.05 |
| Legal Transcriptionist | $49,097 | $24 |
| Scopist | $38,927–$56,000 | $17–$27 |
| Financial Transcriptionist | $50,100 | $25 |
Share on Facebook: