Today's reputable organizations and companies desire managers who can inspire their employees towards greatness, understand their strengths, and create a work culture based on authenticity, communication, and community.
Therefore, if you're seeking a managerial position at your workplace or expecting a promotion to a leadership role such as heading a project, you'll need to learn the necessary managerial skills.
These skills include delegation, mentoring, effective communication, organization, and conflict resolution; all of which will help you excel and boost your career. One of the best and most convenient ways to learn them is via online management courses.
These courses teach you the effective traits, tools, and strategies for successful leadership in the 21st century, allowing you to competently manage a company, its projects, and social media platforms.
Of course, with plenty of online management courses out there, sifting through them all to determine those worth your money and time is a major challenge.
These 3 considerations will help you with your selection:
Completion time: You need to complete the course in a relatively short time (2 hours–8 weeks) to efficiently implement the management practices into your company.
No prerequisites needed: A good management course allows you to begin the course anytime you want without prior conditions, such as previous work experience.
Flexible schedule: You're likely busy even before beginning the course, so it should offer a flexible schedule to meet your needs.
To help you narrow down your choices, we've reviewed 4 of the best online management courses that will take your career to the next level.
1: Strategy: Essentials for Management, Consulting and Startup Success (Skillshare)
Whether you're a leader, an executive, a consultant, or a manager seeking to improve your strategic decision-making, the Essentials for Management, Consulting and Startup Success course is just for you.
The 2-hour course is tutored by CEO and entrepreneur, Chris Bolman, whose work and writing have been featured on such platforms as Harvard Business Review, Forbes, and The Next Web.
Chris condenses his 10+ years of experience as a managing consultant into a series of short and insightful videos that focus on creating and implementing different leadership strategies in the workplace.
As a student of this course, you'll learn everything to do with leadership strategies, including:
The history and origins of strategy
Strategy models and frameworks
The thought processes of great strategists
Frameworks to help you develop your own strategies fast and effectively
Chris's personal lessons as a strategist, management consultant, and technology leader
With no prerequisites needed, Chris Bolman's course is ideal for all, regardless of your background in leadership and management.
So far, 7,539 students have enrolled for the course, with 52% of the students commenting that the course exceeded their expectations.
Great lecturer! Really exceeded my expectation. I love the structure of the lessons, really easy to follow up…

Kaloyan Radulov
2: Think Like a Leader with Brian Tracy (Udemy)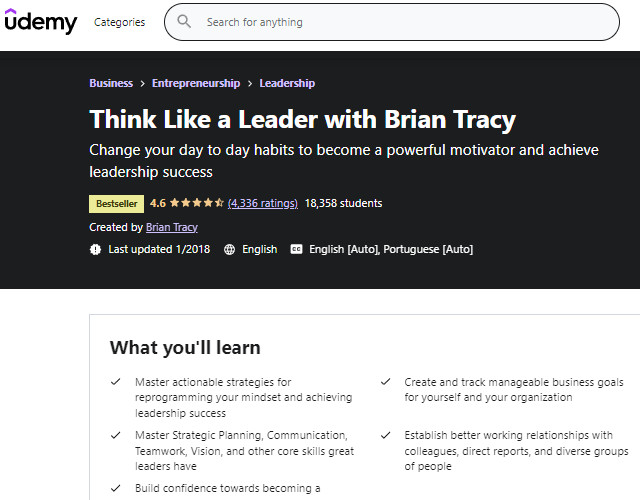 Brian Tracy's Think Like a Leader is an excellent course for anyone aspiring towards a leadership role in an organization, club, or new business. It focuses on actionable daily habits and practices that, when put into consideration, will elevate your leadership success and capabilities.
To lead others, Brian says that "you must first set a foundation for your own success." He helps you set this foundation by showing you powerful daily habits and shifting your mindset for the ultimate leadership success.
The course is centered on 8 core pillars of effective leadership: Vision, Integrity, Strategic Planning, Project Management, Courage, Communication, Teamwork, and Action.
With the pillars condensed into a 3-hour-long video, you can complete all segments of the course in a day. Udemy also allows you to download the course resources, which you can always return to at your leisure until all the information sinks in.
With a reasonable price, flexible schedule, and low time commitment (3 hours of screen time), Think Like a Leader is ideal for every career-oriented individual; whether you're a graduate working a level-entry job or a virtual assistant working from home.
Related: Virtual Assistant Salary: The Definitive Guide 2022
3 : People Management (edX)
People Management is a 6-week course offered 2–4 hours a week on edX for anyone looking to manage teams and employees more effectively.
While the course was created mainly for first-time managers, it also provides valuable incentives for leaders at all levels. You'll learn what it takes to be an effective manager, understand the challenges of first-time leaders, and reflect on your personal experiences as a manager.
edX offers a free version of the course, with access to all the course's sessions:
Introduction to people management
Delegating tasks to team members
Assessing and evaluating work done
Building peer networks
Importance of effective communication
Managing yourself as a leader
The upgraded version is optional but comes with a series of benefits: You get to meet your online tutor, interact with other students, and receive a certificate of completion.
4: Modern Leadership: Give & Get Honest Feedback at Work (Skillshare)
As CEO of an online management and software company, Claire Lew aims to create honest and open workplaces for her employees. She achieved this goal by learning ways to offer and receive healthy feedback in her company.
In Modern Leadership: Give & Get Honest Feedback at Work, Claire brings her years of experience as a manager to the table and shares valuable tactics. She particularly emphasizes communication skills that will help any manager succeed in leading a team.
In just 32 minutes, Claire highlights:
The importance of healthy feedback in a high performing organization
How to give constructive feedback to every employee, including those they don't want to hear
How to receive feedback even from your most introverted employee
So far, the course has 14,235 enrolled students and garnered 616 reviews, with half of the students praising how the class exceeded their expectations, and others expressing their satisfaction as well.
Such a great class. Simple but great tactics to being a good leader. Exactly what I was looking for.

Manthila Ranatunga
Expert Tip: If you're new to Skillshare, you'll enjoy a one-month free trial when you enroll in this course. Sign up here to get started.
Unlock Your Leadership Potential Today
If you're looking to scale your career to greater heights, taking an online management course will help.
The best online management courses teach you crucial skills, such as team building, public speaking, and leadership, which are transferrable to various domains; whether you're an established leader or a managing a start-up company.
Online learning platforms like Skillshare offer the best online courses with endless benefits to learners:
Over 41,000 courses to choose from
Project-based learning that makes learning more interactive
Courses are divided into short lessons that you can learn quickly in your free time
A one-month free trial for beginners
Affordable pricing
A flexible schedule, as you can access the courses at any time and anywhere
If you've been thinking of an online platform to take your online management courses with, Skillshare is the way to go. Sign up today to enjoy a one-month free trial before committing to its premium membership plan.
More Online Management Courses on Skillshare for You
Online Management Course
Short Description
Enroll Today
Double Your Social Skills & Communication Skills

2 hours, beginner-level class
Teaches you how to effectively interact with every team member, both in and outside the office

Click here
Introduction to Project Management: Methods & Tactics for Success | Learn with TeamGantt

Learn how to manage a project with this 1-hour beginner level course
Talks about the psychology behind people management, skills of a project manager, traditional project management technique, and many more

Click here
What Great Managers Do Differently

Learn the secrets and skills of successful managers
Provides a 7-point ROADMAP framework for setting and achieving your biggest goals as a leader

Click here
Share on Facebook: