Adobe Lightroom is one of the best photo editors on the market. It's ideal for users who don't need specialized edits—like combining photos or other artistic modifications—and want to take advantage of Lightroom's organizational tools to edit in bulk.
Lightroom is more intuitive than any other program of its kind. Still, like any software powerful enough for professional photography, it has a learning curve if you want to leverage its full potential.
Online training is your best choice for learning Lightroom. However, with an ever-growing variety of classes and tutorials, making the right choice will save you time and money.
So, we selected four of the best courses for different needs, paid and free. Whether you're looking for structured teaching and assistance or prefer to learn on your own, there is an option for you.
1: Lightroom Tutorials From Adobe and Partners
Adobe Lightroom's tutorials page is a catalog of instructional videos from Adobe, which is Lightroom's developer. The collection also includes videos from professional photographers and editors partnered with Adobe.
With this library, you can learn the fundamentals and a few intermediate and advanced topics covering the two newest desktop versions of Lightroom: CC and Classic (which you can compare here).
Learn how to do all the basic tasks, and move forward to some intermediates, like correcting difficult spots in your photos or creating dynamic compositions.
Adobe's repository is an ideal first stop if what you want is to learn Lightroom's basics without investing money, and you feel comfortable learning by yourself.
Pros:
Access to the entire course is free
The material covers both desktop versions of Lightroom: Classic and CC
The content deals with the essential aspects of the program and some intermediate and advanced tasks
Adobe Lightroom's developer validates the information
You can access the community forums to ask questions
Cons:
Besides the categorization of the videos, there is no structure to guide you
There is no instructor or staff available to give you one-on-one support
Apart from the videos, there are no auxiliary materials
There are no reviews from learners
It only covers a few intermediate and advanced topics, but not all of them
2: Adobe Lightroom Classic Fundamentals on CreativeLive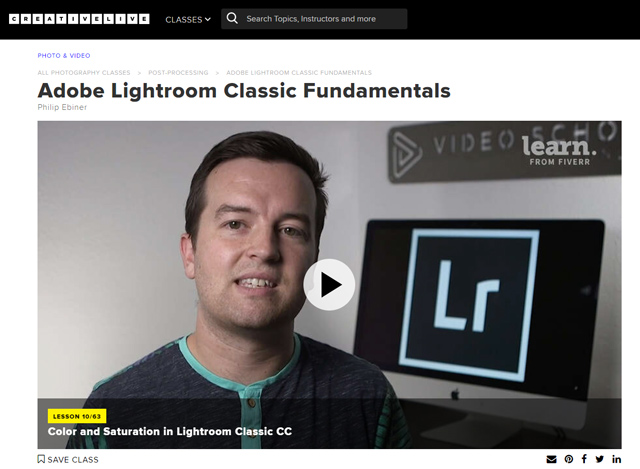 Adobe Lightroom Classic Fundamentals includes more than 7 hours of video content divided into 63 small lessons. They will take you from a beginner to a high-intermediate user of Lightroom.
Phil Ebiner imparts this training. He is a well-known instructor, photographer, and video producer with over a decade of experience in online teaching.
After taking the course, you'll be able to:
Import and organize your images
Use every tool in the development module proficiently to edit photos
Navigate the map, book, web, print, and slideshow modules
Master advanced tasks like creating and importing editing presets, using color profiles, fixing exposure and white balance automatically, and others
Use advanced techniques to edit portrait images
You can purchase this training individually or acquire CreativeLive's monthly or annual subscription plan, which gives you access to all its classes for creative professionals and entrepreneurs.
This is an excellent alternative if you want to improve your skills in Lightroom and prefer a structured and assisted program at a reasonable cost.
Pros:
Phil Ebiner is an expert in all-things photography and a seasoned instructor
The course is one of the best-rated of its type
The content is thorough, especially in editing
The lessons include complete editing processes with different photographic styles explained in detail
Cons:
It's not free, although its cost is moderate compared to other options
It only covers Lightroom Classic
There is no active community for this training inside the platform
3: Lightroom Classic Tutorial for Beginners
This is a comprehensive free Lightroom tutorial created by Envato Tuts+, a leading publisher of training to develop creative skills.
The content covers all the fundamentals and goes into several intermediate and advanced functionalities, primarily for editing.
After watching it, you'll be able to:
Choose the version of Lightroom most suited for you
Fully manage your photo library: import, store, and organize your photos; use smart collections, rankings, and custom sequences
Use all editing tools of the program proficiently
Use creative color and other advanced functions to make refined edits
Export and deliver photos to clients professionally
The entire tutorial is available on YouTube.
This is a fantastic option if you don't wish to invest money in a course and still want to cover most of Lightroom's capabilities.
Pros:
The entire tutorial is available for free on YouTube
It was created by a company specialized in educational resources for creatives
The course has excellent reviews
Its content encompasses most of Lightroom's functionalities
It covers both current desktop versions of Lightroom
Cons:
It goes over a lot of topics in little more than 2 hours of video, so some explanations are less detailed
It doesn't include practice exercises or resources to train on your own
There's no support or assistance available
This video has everything you need to get started. If you've been using Lightroom for a little while, and want to be more strategic in your editing, this is a good course for you, too: the chapters are organized in order to process your photos for the best results.

Jackson Couse
4: Mastering Adobe Lightroom by Fstoppers and SLR Lounge
This course covers all the features of both desktop versions of Lightroom and the mobile app and focuses on editing at an advanced level.
The program was created by Fstoppers and SLR Lounge—two well-respected communities of creative professionals—and is imparted by Pye Jirsa, a seasoned photographer, trainer, and creative entrepreneur.
The training starts with the fundamentals but quickly dives deep into Lightroom's editing capabilities. It has abundant examples and exercises explained in detail by Pye.
It covers more than twenty topics, including:
Lightroom CC vs. Mobile vs. Classic
Optimize your workflow with Lightroom
Color theory to create cohesive images
Simulated cinematic looks
Advanced layered masks with AI
Shooting and editing with Lightroom Mobile
You can purchase it from Fstoppers or acquire SLR Lounge's monthly or annual premium subscription, which gives you access to this and all its teaching and resources.
This option is ideal if you want to invest in quality teaching to become an expert at editing with Lightroom. You'll have all the assistance and resources needed to make the most of the program and access to a circle of creative professionals to help you.
Pros:
The training is designed by two well-established communities of creative professionals and taught by a recognized expert
It's one of the most comprehensive courses available
It includes hundreds of training materials and exercises
You'll have access to support and assistance from Pye and an active community
It has a money-back guarantee of 30 days, or 50% after that period
Cons:
The program is expensive
It covers the essential topics swiftly, which might be challenging for complete novices
The course is extensive and requires a significant time investment
You may need to learn some photography concepts before or during the training
Related: Learn Photo Editing Skills With These 5 Online GIMP Courses
Build Up Your Remote Worker Profile by Learning Lightroom Today
Learning Lightroom will add one of the most popular applications in the photography world to your skillset, and help you grow as a creative professional.
Any of the courses we presented here can help you learn Lightroom from scratch. We chose among the best alternatives that balance cost, quality, reputation, reviews, and access to support and assistance.
However, these options are very diverse, so the following table illustrates which course is the best fit for your specific learning needs.
We hope we've helped you decide where to start your journey with Lightroom.
At Small Revolution, we are committed to helping people from all backgrounds acquire new skills and resources to consolidate successful careers.
Take a look at some other useful content: 100 Best Apps for Online Job Freelancers
Share on Facebook: