Statistics show that (Generation Zs & millennials) are the most active in the freelance market in comparison to earlier generations.
This is because they were born in the digital era, where accessing the Internet is as normal as breathing.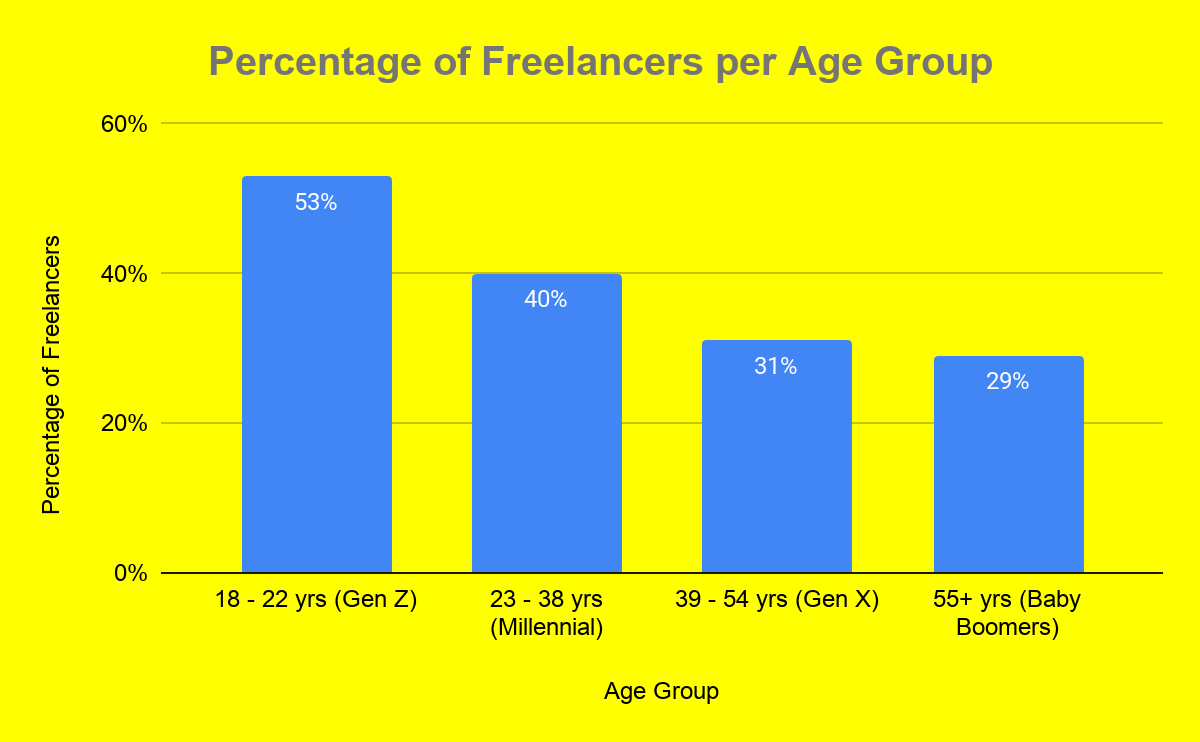 As a member of these age groups, you might be studying as well as working part-time. And being a student is expensive, right?
Instead of slaving away at the local diner or spending hours babysitting, why not try freelancing? It is the perfect part-time job for you as you juggle academics, social life, and work.
You are able to freelance from wherever you are and even pay off some of your school fees.
Be it your dorm room, the library, on the grass by the quad. Wherever it is, online freelance jobs are an easy way to make money and learn a new skill.
Now, you are wondering, 'What are these jobs and where do I find them?'
Luckily we're here so you do not have to look very far. Here are the best paying online jobs for students.
10 Top-Paying Freelancing Jobs
Freelancing gigs are online jobs which involve the creation of content for clients. It's quite easy to find jobs online with numerous freelancing websites. The job boards make it possible for you to find jobs within your capabilities.
Even better, there are hundreds of apps available to help you with your various tasks. After creating a resume, browse through these jobs that pay fairly well and see if any catch your eye.
1. Social Media Manager
Social media marketing is extremely popular for businesses looking to market themselves online.
If you are active on social media and capable of promoting goods and services, this is the job for you. Target local businesses in your area looking to outsource social media marketing services.
Potential earnings: $1,000 – $10,000 per month depending on the number of clients you have.
Get started: Follow the tips provided by Annelise Picket. They will help you begin the journey to social media management.
2. Freelance Writer
This is one of the most popular freelance jobs for those interested in writing but not in creating a blog.
You can sell your services to companies looking for content or apply via freelancing platforms that advertise writing gigs. All you need to do is sign up and pitch your services.
Potential earnings: Depending on the type of articles you write, the rates can range from $15 – $600 per page.
Get started: Here's our complete guide to online freelancing in 2020.
3. Virtual Assistant
A virtual assistant offers administrative support to businesses. These would normally be done in an office but companies are opting for remote assistants. VAs are essentially the executive secretaries of the gig economy.
Duties include email management, bookkeeping, managing schedules and data entry. The job description is broad and you need to create a resume that reflects what work you can do.
Potential earnings: $25 – $100 per hour. The more experience you have, the higher you can charge for your services.
Get started: With a little research, you can find a plethora of useful tips and advice on how to become a VA.
4. Proofreader
This is one of the most popular online jobs for students. If you constantly catch errors when reading, then this job is perfect for you.
Proofreaders are in high demand with many companies looking for proofreaders online.
Potential earnings: $10 per hour. Earnings vary according to the client and your negotiations.
Get started: Take a look at these websites offering proofreading jobs.
5. Transcription
Transcribing involves turning voice recordings into text. If you can type accurately while listening to a recording, this could be an ideal part-time job for you.
It's one of the simplest online jobs for students, especially for those with no graphic or writing skills.
Potential earnings: $7 – $30 per hour from online transcription platforms.
Get started: These 10 companies are the best for transcribers to begin online earning.
6. Graphic Designer
If you are experienced with design tools such as InDesign, Illustrator, and Photoshop, graphic design is the job for you.
If you're not ready yet, but willing to learn, there are online courses that can make you a design pro.
It is advisable to create a portfolio showcasing your work. This will show potential clients what you're capable of and let you negotiate for higher rates.
Potential earnings: $25 – $300 depending on experience level.
Get started: Take the first step and check out these comprehensive instructions by Design Bold Academy
7. Web Designer
Creating a website requires someone who is creative and has the necessary tech skills. You should be able to create an aesthetic, yet functional, website within a set timeline.
The site needs to reflect the image of the person or business outsourcing the task. You can learn this skill online and market yourself to people who need websites.
Potential earnings: $13 – $35 per hour
Get started: This Complete Freelance Web Developer Guide is a good starting point if you are going to become a web designer
8. Blogging
Creating a blog can earn you passive income whenever people read your articles. By monetizing ads on their site, bloggers earn when readers click or view the ads.
Once you have decided what you want to blog about, try to write content regularly. Make the content relevant to your readers and it will, in turn, make you money.
Potential earnings: $ 10 – +$100 per post. This depends purely on the traffic your blog receives.
Get started: To learn how to make money with your blog in this helpful article. Whitney at Tried and True Mom Jobs also gives a step-by-step approach to blogging and making money.
9. Video Editor
Video content is in high demand for online marketing and content creation. That means this job has limitless earning potential for freelancers.
If you are able to creatively use digital technology and apps to edit videos this is a sure way to earn extra money.
Potential earnings: $75 – $150 per hour
Get started: Hone your natural talents with this video editing course from Udemy.
10. Start a YouTube Channel
Vlogging, which can be described as the visual version of blogging. It is visual content made to inform and entertain audiences.
In the same way blogs earn from ads, you can join the YouTube Partner Program and earn income per view.
Watch this instructional video from YouTube's Creator Academy.
Potential earnings:$3 – $5 per 1,000 views
Get started: Take a look at these 6 strategies to help you monetize a Youtube channel.
Take the First Step to Become a Successful Freelancer
You might be looking at these jobs and thinking, 'I can do these, but do I have the skills?'
You may be a natural writer or creative designer but have not honed your talents yet.
Small Revolution is the best place to get training on all things online. From becoming a virtual assistant to learning how to use online tools, these courses will help you get your part-time gig up and running.