Email is one of the most cost-effective marketing channels to get in front of your customers and build brand trust and loyalty.
There are several online courses to teach you effective email marketing strategy, tools, tactics, analytics, and more.
For example, Small Revolution provides specialized training courses in email marketing. Here's what satisfied students are saying about us:
I've really grown as a commercial writer in the past six months because of this course and the guidance I've received…

Ivan
Today, we look at 4 of the most popular free online email marketing courses for beginners.
1: Email Marketing Basics by Google Digital Garage
Email Marketing Basics from Google Digital Garage provides a good overview of email marketing.
In this course, you'll learn how to create and manage effective email campaigns, from building a subscriber list to composing engaging emails.
Google instructors will explore the role of email marketing within a larger digital marketing strategy.
Lessons in the Course
The course covers the following five lessons:
Email marketing basics. Learn how to develop a contact list, target your customers correctly, and build relationships.
Email marketing options. Learn about email marketing tools, email recipient tracking benefits, and how to customize content based on customers' data.
Crafting compelling marketing emails. Learn how to create clickable subject lines, write a strong call-to-action, and add useful links to your emails.
Effectively managing email campaigns. Learn how to create relevant and effective campaign landing pages and measure how email campaigns perform.
Measure email marketing success. Learn how to use email metrics to gain insight into your email marketing performance.
At the end of the course, you take a quiz to determine how well you understood the lessons and get you ready to implement them.
2: Email Marketing Certification Course by HubSpot
HubSpot Academy's Email Marketing Course provides a comprehensive overview of the core email marketing tools and strategies used by marketing professionals, from defining email marketing objectives to creating targeted campaigns and measuring results.
What You'll Learn in the Course
This course covers four main lessons:
Understand email marketing. Learn how to create a successful email marketing strategy.
Create a high-performing email. Discover how to implement the elements of a high-performing email into your business.
Analyze your marketing emails. Understand the benefits of analyzing your email sends; the lesson also has a guide to help you perform this analysis.
Test your marketing email. Learn how marketing tests are critical, what type of tests to run on your marketing emails, and where to place these tests.
Upon passing the final exam, you'll receive a certificate which you can download and print, or share online.
3: Email Marketing Free Course by Primer
Primer, a Google-owned platform, is packed with a massive library of free online classes. There's no enrollment process; you simply install the app and log in using your Google account.
Lessons in the Course
The course covers everything you need to know about email marketing, from building a list to avoiding spam filters, to using email automation.
The table below outlines the lessons that the tutors will take you through:
Lesson
Key Takeaways
Importance of an Email Address to a Business

Difference between a personal and business email
Reasons for having a business email
How to get a business email

Email Automation

Defining email automation
How to use email automation in your business
What it does to keep your customers interested and engaged

Email Crafting Hacks

Benefits of effective email communication to your brand
A guide to crafting effective emails
Answering emails correctly

Building an Email List in a Non-Spammy Manner

Importance of an email subscriber
Encouraging people to subscribe to your email
Using online content to persuade people to sign up

Your Secret Weapon: Email Marketing

Reasons for doing email marketing
Types of emails to send
How to measure email marketing success

Build an Email Marketing Team

Why you need an email marketing team
Factors to consider when hiring an email marketer
Roles and responsibilities of an email marketing team

Use of Multivariate Testing in Email Marketing

Difference between multivariate and A/B testing
Importance of using it in your email marketing
How to perform multivariate testing

Understanding Spam Filters

Spam filters definition
How to avoid them
Maintaining an up-to-date and relevant email contact list
4: Digital Marketing: Email Marketing for Beginners by Skillshare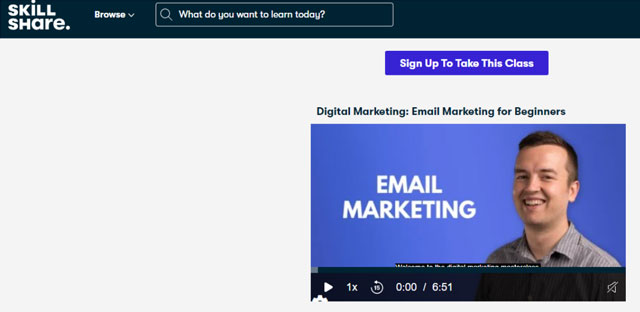 Digital Marketing: Email Marketing for Beginners is a free, self-paced online introduction to email marketing.
The course teaches you about building a list, crafting emails guaranteed to be read, forging relationships with subscribers, and increasing overall sales.
Specifically, you'll learn:
How to build email marketing funnels
How to use popular email marketing tools
Creating powerful lead magnets
Understanding and segmenting your audience
Email sequence creation
This course is best for professionals who want to learn and scale their businesses to higher levels.
Learn more in the video below.
Enroll in a Free Online Email Marketing Course Now
These free email marketing courses cover topics relevant to all industries, from setting up an email marketing campaign to ensuring higher levels of customer engagement.
With Skillshare, for example, you can work on real projects with fellow creatives and learn new skills.
Sign up here for free.
Frequently Asked Questions
What are the two types of email marketing?
The two major types of email marketing are:
Engagement emails: emails that tell a story
Transactional emails: focus on making and closing a sale
Is email marketing still effective?
Yes. Email marketing is as effective as ever and has grown in popularity in recent years. Learning how email marketing can benefit you is important for any sized company, big or small.
How much can I earn from email marketing?
According to Glassdoor, the average salary of an email marketing specialist is about $50,000 annually. This can range from $40,000 to $100,000, depending on the location.
Share on Facebook: