Making inquiries on a job after you've applied or been interviewed increases your chances of securing it.
By writing a follow-up email, you leave a good impression on the hiring manager and remind them of your great potential.
On the flip side, you're walking on a very thin line. You're just about to indirectly ask the hiring manager, "will you hire me or not?" But, you don't want to be pushy or rude.
Not following up, however, could do you more damage than good—it could make you lose your spot to another candidate.
A follow-up email that gives positive results is:
Written in a polite language and a positive tone
Brief and precise
Carefully edited and proofread
Written in a timely manner, such as within a 24hour window after the interview
When utilised correctly, a follow-up email gives you a competitive advantage over other applicants, whether you're a college student or a graduate.
Let's discuss 4 follow-up email examples to help you get your dream job.
Email Example 1: Thank You Email After an Interview
A thank you email is the first email you should send out after completing an interview.
Ensure you send it as soon as possible—one or two hours post-interview. Your swiftness portrays you as responsive and quick to take action.
Keep the thank-you email short and specific enough to trigger the interviewer's memory. Remember to mention an item you'd discussed, whether a common interest or the company's manifesto.
Here's why a thank-you email after an interview often works:
It shows courtesy.
It shows your commitment to working with the company.
It implies that you understand the hiring manager's tight schedule and appreciate them taking the time to interview you.
Email Example
Hello (Hiring Manager's Name),

Thanks for taking your time to speak with me today concerning the (job title) position in your company. I specifically enjoyed talking about (mention the topic).

I look forward to hearing from you soon regarding your hiring decision.

Sincerely,
(Your Name)
Email Example 2: Follow Up Email One Week After the Interview
If you haven't received a response from your interviewer, don't give up just yet. Wait a week before giving your interviewer a little push via another email.
In the second email, include a topic you discussed with them. If possible, attach an update of a topic you think they might find interesting (such as a project you've been working on). In short, the email should sound like part of an ongoing conversation.
Then remind the recruiter of the interview and your request regarding the job.
Most applicants fail to follow up on an email once ignored. Doing this puts you ahead of the competition.
Email Example
Hi (Hiring Manager's Name),

Thanks again for the interview session we had last week. I was so excited when you spoke about (mention the topic). I'm making a point to learn about (the topic) too.

I'm still very excited about the (job title) position and to help (company name) grow. Please feel free to reach out in case of any further inquiries.

Looking forward to hearing from you soon.

Best regards,
(Your Name)
Expert Tip: In your next interview, inquire about the timeline of the hiring process. It lets you know whether to send a follow-up email after a week or if you should wait. For instance, if the interview occurred in February but the recruiter said the hiring decision would be made in April, do not send a follow-up email until then.
Email Example 3: Follow Up After No Response to the Last Email
If you still haven't received a response two or three weeks after the interview, compose a brief email one last time. At this point, the recruiter might:
Continue to not respond
Inform you that they're still in the decision-making process and will get back to you once they're done
Let you know whether you've gotten the job or not
Email Example
Hello (Hiring Manager's Name)

Hope you're doing great.

I just wanted to confirm if you saw my email and I didn't miss yours by mistake. Let me know if you're still interested in my application.

Thanks,
(Your Name)
This should be your shortest email yet. You just need to check in with the company one last time and briefly inquire about their decision.
As a job applicant who values their time, don't keep your hopes high on the company if they haven't responded to any of your emails in 3 weeks.
Send this follow-up email as your final check-in and proceed to search for other jobs.
Related: 20 Best Online Jobs for Working from Home
Email Example 4: Follow Up to Let a Recruiter Know You Applied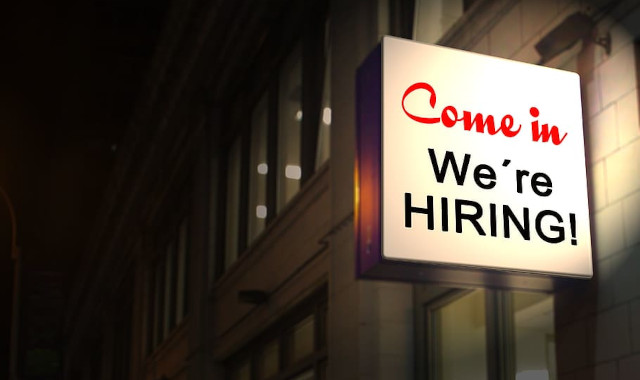 HR recruiters are constantly flooded with emails, so it's crucial to send a follow-up email to gain their attention.
After applying for the job, send a follow-up email after a week with no response.
Waiting for a week or two gives the recruiter ample time to review your resume, cover letter, and any other relevant attachments.
To build rapport, go through the recruiter's account on a platform like LinkedIn and learn more about their interests. Mention a post they published that you liked or a fun game you both enjoy. The secret is to be personable.
Email Example
Hello (Name),

Last week, I applied for a job opening at (company name) for (job title) on your career site. I understand you probably have a busy schedule, but I'd like to get some updates on your decision timeline.

The position fits perfectly with my experience (mention experience) and skills, especially (mention one skill) which would immensely benefit your company.

I recently followed you on (mention site), and I appreciate the valuable insights you share and your cordial interactions with candidates. I'm also a huge fan of (mention the common interest).

For your convenience, I've attached my application documents. Kindly let me know if you need any other information on my application.

Looking forward to hearing from you soon.

Kind regards,
(Your Name)
Find Your Dream Job Through LinkedIn
With more than 57 million businesses on LinkedIn, the platform has become a powerful job board for applicants.
Find out your recruiter or interviewer's name, then look them up on LinkedIn to discover their career journey, interests, and current projects. Use this information to your advantage during your interview or application.
Even though LinkedIn is a free site, you can only access added features through LinkedIn Premium, such as 16,000 LinkedIn Learning courses to help you sharpen your skills and become an expert in your field, like Mashiloane: 
This course is just about increasing one's capacity in this field of study, I absolutely recommend it.

M Goodwill Mashiloane
Let's compare 3 LinkedIn courses that will hone your skills to help you get your dream job.
| | | |
| --- | --- | --- |
| Linked Course | Brief Description | Link |
| Content Creation: Strategy and Tools | Become a social media marketing expert with these credible tools and strategies | Click here |
| Become a Digital Marketing Specialist | Learn the best principles and practices of digital marketing | Click here |
| Introduction to Graphic Design | Master the skills and tools to become an effective graphic designer | Click here |
So, sign up today and enjoy a one-month free trial before making your decision.
Share on Facebook: