Your teen is about to take an important step in their career journey.
You're proud of them for passing the first round and getting invited for a job interview. You're excited and want the best for them.
Yet you wonder how you can help them beat the competition and get the job.
From your own experience, you know that interviews can be challenging even for seasoned professionals.
But you believe in your teen and are confident that they can nail the interview through proper guidance.
To help you prepare your teen for the interview, we've put together five practical tips to help them prevail. From these pointers, your teen will learn:
How to convince their potential employer that they are an excellent match for the job
How to manage nerves and conduct themselves like a professional
How to gain the confidence to answer tricky interview questions
With these tips, your teen will feel more prepared and confident as they walk into the interview room.
Tip 1: Research the Company First
Before the interview, visit the potential employer's website and social media pages and read the latest news about the company. This helps you know more about what the company does, the industry they operate in, its location, and its approximate team size.
In addition, search for reviews to learn more about their work culture and reputation.
Researching the company helps your teen learn more about its history, core values, mission, and vision. It also serves three purposes:
First, it helps your teen discover whether the company's mission and vision align with their values, interests, and career goals.
Second, it allows them to fully consider the role using the information from reviews or past employees.
Finally, it gives them topics for discussion during the interview.
During the interview, encourage your teen to refer to this research as they answer or ask questions. This shows the interviewer that your teen is thoughtful, well-prepared, and eager to join their team.
For example, when answering a question they can say, "I have previously interned in an X capacity on a project similar to what you are doing on Y."
Tip 2: Understand the Job Description
When applying for the job, your teen may have skimmed through the job description to determine their suitability. But rereading it at the interview stage helps them understand each component and enables them to prove that they're a good match for the role.
Understanding the job description empowers them to give fitting responses about each job responsibility, cementing their suitability.
To help your teen give winning responses about the job's responsibilities, assist them in doing the following:
Write out in detail how their skills or experience satisfy each requirement.
Then, detail their experience for each job duty.
Finally, prepare a story or anecdote that describes their involvement in each role to show their enthusiasm.
If it's their first ever interview, they may refer to roles they held in internships or school clubs.
For example, if a job description requires strong leadership skills, they may describe their role as a club president and how they excelled in it.
Tip: Your teen can get ahead of the competition now by taking the Job Interview Training Course offered on Skillshare. Here's what one user had to say about the learning platform: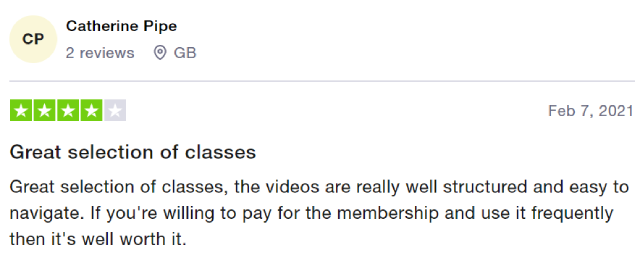 Tip 3: Know Your Resume
Often, interviewers may ask interviewees to walk them through their resume. While it is easy to do this on paper, it can be challenging to do so in person. For this reason, it would benefit your teen to know their resume by heart.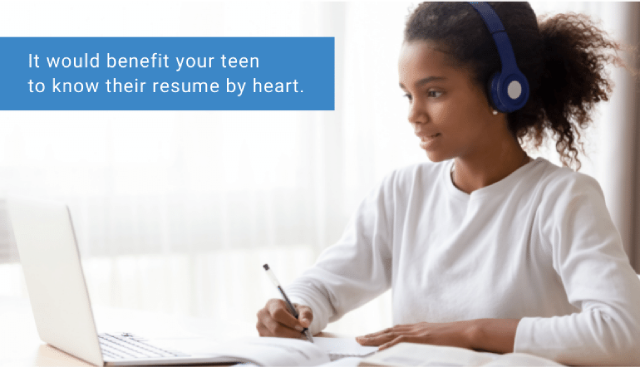 Not knowing the specifics of their resume may put off the interviewer.
Caution your teen to avoid telling the interviewer to look at their resume when asked to describe a specific item. This may make their resume seem insincere or untrue as the interviewer expects them to discuss their experiences from memory.
When your teen is discussing their resume, they should avoid going point by point as the interviewer already has a copy of it. Instead, ask them to talk about the essentials and detail their strengths, qualifications, achievements, and career goals.
In addition, when describing their experience, they can note the following:
The job titles they held and corresponding duties
The length of time they worked in the mentioned capacity
Any challenges that they encountered
Notable achievements in those roles—encourage them to brag or embellish a little, but ask them to stay professional
Expert Tip: Being clear and enthusiastic when discussing their resume also highlights their communication skills and professionalism.
Tip 4: Manage Your Nerves
It's natural to feel nervous before or during an interview.
However, if your teen can tell a joke at the dinner table, they can also do so at an interview. One way to overcome their nerves is by anticipating their reactions to nerve-wracking situations. By recognizing these reactions and identifying when they strike, they can better manage them.
Assure your teen that recognizing and acknowledging their nerves can help dismiss them. For example, you can tell them that if they start to tremble and stutter, they can say to themselves;
"I know I get this way when I am nervous, but I will project confidence until the end of the interview."
Help your teen understand that despite adequate preparation, nerves may cause them to blank out on their answers. To handle this, they may request the interviewer for a moment to gather their thoughts. This projects honesty and professionalism, and further helps them manage anxiety.
Remind your teen that the purpose of an interview is not to demean or humiliate them. Rather, it is an essential step in their career journey. Encourage them to remember that when they manage their nerves during an interview, it projects confidence and professionalism.
A few more tips to help them manage their nerves are:
Not speaking too fast
Being themselves
Practicing with a sibling, friend, or in front of a mirror before the interview
Making an interview questions cheat sheet
Tip 5: Ace the Interview Questions
Interview questions vary, are often career-specific, and may take unusual forms. Even so, your teen's future boss needs to know that they understand the job responsibilities, are respectful, and are honest. The interviewer, therefore, expects your teen to answer the questions effectively and without hesitation.
For this reason, your teen may wonder:
Will they give correct responses?
What sort of answers will make them seem more professional?
And what about those sneaky interview questions?
Not knowing what questions to expect can make interviews feel daunting.
But the good news is that it all comes down to preparation.
Adequate preparation can help your teen give professional responses that leave the interviewer with the best impression of them.
Part of interview preparation involves studying common interview questions. While different interviewers employ varying techniques, certain questions recur in most interviews.
The questions may seem quirky and unsettling, especially if it is their first interview. But they are usually logical and help the interviewer get a snapshot of their experience and personality.
Before their next interview, consider the following table, which shows common questions and their responses.
| | |
| --- | --- |
| Question | Sample Response |
| Why do you think you are suited for this position? | "I have always maintained high academic grades. Even though I have limited work experience, my participation in school-based activities and student leadership have prepared me for this position." |
| Describe how you overcame a challenge in the past. | "When working on a group coding project, keeping track of changes to our codebase was difficult. So I taught members how to use Git, and the project proceeded smoothly." |
| Why should we hire you? | "As a self-motivated individual, I believe that my knack for problem-solving, a team playing spirit, and leadership skills make me perfect for this role." |
A Skillshare Course Can Boost Your Teen's Skills
Skillshare is an online learning platform trusted by over 8 million users and features over 41,000 expert-led courses.
With so many courses, it lets you dabble in new skills in virtually every category. And with feature-laden free trials, you can find courses that challenge you in meaningful ways without committing financially.
For example, with a 7-day free trial, you can enroll your teen in the Job Interview Training Course. In this course, they will learn to use a proven 10-step process for succeeding in an interview. Then, as your teen learns practical skills to thrive in the real world, they get to interact with the vast Skillshare online community.
Share on Facebook: