No matter what industry you're in, you need to manage people.
That's because effective communication and creating a workplace with positive morale are the key to the success of any human resource (HR) department.
Taking a HR course will help you develop a tactical approach to recruitment, ace your management skills, and create a positive environment for your employees. In turn, your employees can help you achieve your business goals.
Today, you'll learn:
Why you need to complete a HR course
Why people analytics matters in human resource management
Why talent management is important to any HR department
Reasons to perfect your interviewing and recruitment skills
To that end, here are the best human resource management courses that can help you improve or grow your HR department.
1: People Analytics by Josh Bersin (LinkedIn Learning)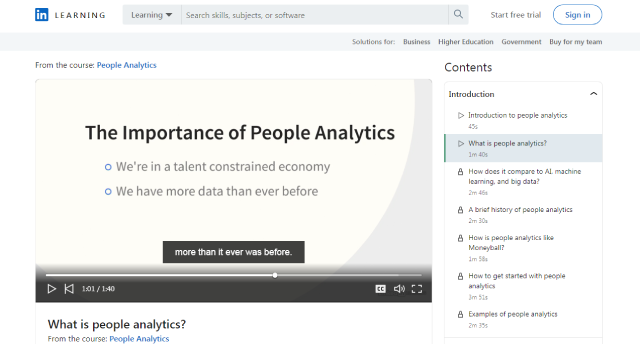 People Analytics is one of the most important tools that businesses use to make better hiring decisions, improve employee retention rates, and increase productivity. It allows businesses to analyze data from internal and external sources.
During recruitment, for example, People Analytics enables you to predict which candidates are likely to succeed based on their past performance or qualifications.
You can also identify potential problems before they happen through predictive analytics, such as noting patterns among employees who leave their jobs within six months or who have high turnover rates at previous companies.
People Analytics is a beginner-level course by Josh Bersin, available on LinkedIn Learning. Josh has been doing business analytics for over 30 years and he's specialized in the HR analytics segment for the last two decades.
The course is ideal for HR professionals who want to learn how businesses use data analysis to analyze their workforces. It's also ideal for people looking for HR jobs that want to polish up their HR skills.
From this course, you'll learn how the HR team uses analytics to improve their employees' workforce and the business's bottom line.
You'll also get a step-by-step process for getting started with People Analytics and choosing which metrics to quantify.
Josh also highlights examples of People Analytics and how it compares with machine learning, artificial intelligence (AI), and big data.
Josh also dives deep into the course by explaining how People Analytics is applied in the HR department. He explains how People Analytics drives impact on any business, what tools to consider, and ethical considerations to pinpoint.
The table below shows how you can apply the HR analytics skills learned from the course.
HR Analytic Skill
Application
Retirement risk model

Learn who's likely to retire soon
Develop a plan for continuity of the position
Create a plan for knowledge transfer

Talent acquisition

Understand the channels that lead to more hires
Analyze the performance of your company's hiring tactics
Predict the performance of the employee
Assess what key talents your business is losing to external companies and who's your biggest threat

Workforce diversity

Eliminate unconscious bias during hiring, compensation and performance reviews
Design an equitable compensation structure
Spot diversity gaps and promote fairness across groups

Training efficiency

Training retention rate
Onboarding completion rate
Employee engagement score
Although the course is not free, you can take advantage of LinkedIn Learning's 30-day free trial and unlock the resources without paying a penny.
2: Human Resources Foundations by Wayne Cascio (LinkedIn Learning)
Better HR skills enable you to build relationships with your employees, give them constructive feedback, and help them learn from their mistakes in order to grow.
Human Resources Foundations is a course by Wayne Cascio on LinkedIn Learning that provides a deep dive into human resource management. Wayne has been writing and coaching people about human resource management for decades, which means he's well-versed in the topic and shares quality information.
Cascio equips you with the skills you need to manage people, develop a smooth recruiting strategy, and master your company's success in establishing an ideal pay system.
Briefly, here's what you'll learn from the course:
Human resources management (HRM) — the topic covers all the fundamentals of HRM. This includes administrative HR, strategic HR, and talent management. Wayne also explains how to make the business case for diversity.
Human resources development — you'll learn how to create a system that allows employees to grow their skills, knowledge, and capacities to boost your company's performance.
Global human resources — Wayne shows you how to manage the global workforce while also considering their culture. He also explains how to create an effective compensation plan for global employees.
The course includes two chapter quizzes and exams to polish up your skills. You'll get a certification for completing the course and passing the tests.
Again, this course is not free, but you can get started with LinkedIn Learning's free trial, where you can access the resources for free before your 30-day trial is over.
3: Recruitment & Interviewing Skills – Top Human Resources Guide for Interviewers
A good recruiter can make an enormous difference to the success of a company. It's not enough to just be able to find the right person—you also need to ensure that your hiring process is as fair and transparent as possible. You want to keep it simple and streamlined to get the right people at all levels.
You don't want to hire people who are not likely to perform well on the job. In fact, a study by Link Humans shows that bad hires can cost a company $240,000 in total expenses. To minimize high employee turnover, you need to ace your interviewing and recruitment skills.
Recruitment & Interviewing Skills is an interactive course by Don Munro that teaches you how to create an effective recruitment and interviewing system.
Munro is an international training consultant who has offered training services to reputable American companies like IBM, Pan American Airlines, and the New York Times newspaper.
From the preview, you can tell that this course has what you need. Don avoids jargon to make the course actionable and easy to understand, even for beginners.
From his course, Don teaches you how to:
Ace your recruitment and interviewing skills to onboard the most suitable employee
Impact a positive image of your company
Provide constructive feedback to your interviewee
Master your question-asking methodologies in an interview
Develop great follow-up techniques
As before, this course is not free, but Skillshare offers a free trial where you can access the resources at no cost. You can leverage the free trial period and master your interviewing and recruitment skills for free.
4: Talent Management by Kathrine Sharon (LinkedIn Learning)
If you're in the HR department, you're thinking about keeping your employees happy and engaged while working in the company. You want them to be able to grow their careers and stick around. Talent management enables you to achieve that.
Talent management is one of the crucial aspects of human resource management. This ensures that your company can attract and retain the best people.
You can maintain a consistent workforce of talented people who are likely to perform well in the future, and create a strong recruitment process that attracts top talent.
Talent Management is a beginner-level HR course on LinkedIn Learning by Kathrine that teaches you how to develop a top-tier talent management strategy that yields better results for your company.
The course is intuitive and includes four quizzes and a certificate of completion that you can showcase on your LinkedIn profile.
This is what you'll learn from the course:
The impact of talent management in HR
How to build a talent management plan
How to develop a winning talent management strategy
Talent management best practices
How to create a high performing organization through talent management
This course has exceeded the expectations of most students. Here's what one of the students has to say:
It was an insightful experience and very helpful.

Dafliso G, Ghana
As before, you can use LinkedIn Learning's free trial to unlock the course without spending a buck.
Ace Your HR Skills With Free Courses
A course in human resource management will help you focus on getting the most out of staff by understanding their needs, strengths, and weaknesses. It will help you develop a strategic approach during recruitment, training, and analyzing every intricacy during the hiring and managing of people.
When your employees aren't productive, it doesn't just make things harder on everyone else in the office—it hurts your bottom line.
The above HR courses can help you master your people management skills. The best part of it is that the courses are mostly free—it won't hurt to try something new without spending a penny.
You can sign up to a platform like Udemy, which provides a plethora of HR courses at all levels.
Share on Facebook: