The eCommerce industry rises to become an essential part of our life. More and more people prefer to shop online and make transactions over the Internet. And most entrepreneurs and business owners go with this technology trend and find it a must to make their products available online. To make our stores stand out from the rest, we need to design our eCommerce stores with the most attractive and high-quality online materials. Aside from creating valuable store content, we also need to add eCommerce icons to our sites. These icons promote better communication and easier navigation over the Internet.
There are a lot of eCommerce icons available that we can download for free or with a cost. To help you save time searching for good icons over the Internet, here is a list of hand picked icon sets that are designed especially for eCommerce stores. You can choose any of these highly usable and quality icons to add to your eCommerce stores.
1. Free eCommerce icon pack by Freepik
Neat and clean set of icons complete from different styles of shopping cart icons to currency icons and even to graph icons. Made simply with white color so it will highlight itself on a colored background. A great idea for eCommerce icons created by Alejandro's team, founder of Freepik for WooCommerce. These 250+ icons are available in various formats – PNG, AI, and in TTF and SVG font files. Plus they're retina ready.
Download it here.
2. Nouve icon set by Dreamstime
These graphic icon set created by Dreamstime is excellent for your eCommerce stores. With a unique and creative download and upload icons, lock or unlock icons, credit card icons and ofcourse the shopping bag/cart icons, your store's functionality will always be in style. Also include  a printing icons which is a rare addition to the set. These come in different size options so you can select which one best suits your site.
Download it here.
 3. Professional eCommerce icon set by Web Icons Set
Web Icons Set created a set of attractive and usable icons with just the right colors and details for Smashing Magazine and for its readers as well. The set includes icons such as Empty Basket, Full Basket, Credit Cards, Delivery, Secure Payment, Checklist, Gifts, Shop Open, Shop Closed, Contact, Wallet and others. These professional and quality icons can be used for your private or commercial projects for free and without restrictions.
Download it here.
4. Vector glossy eCommerce icon set by Dreamstime
A set of glossy icons that can be used for your eCommerce web shop/site created by Dreamstime. The set includes shopping cart icon, basket, star icon, barcode icon, chat icon and the sale icon. The icons have the right kind of gloss to highlight them on your webpages. These can be used even on your iphone/android app. These also come in different size options so you can select which one best suits your store.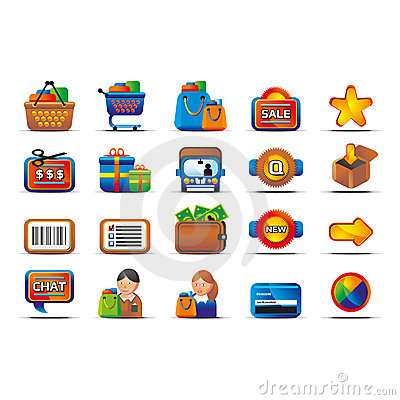 Download it here.
5. Free eCommerce icons by VesperTilo
These icons made by VesperTilo are clear and easily recognizable so it will promote better navigation on your eCommerce store. The set includes icons for Auction, Badge, Calculator, Cash, Change, Credit Card, Gift, Lock, Offers, Registration Box, Shopping Basket and Wallet. Exclusive free icons that are available for Windows. Icons are in PNG format (48×48 and 400×400). The file download also includes the source files in PSD and Illustrator format.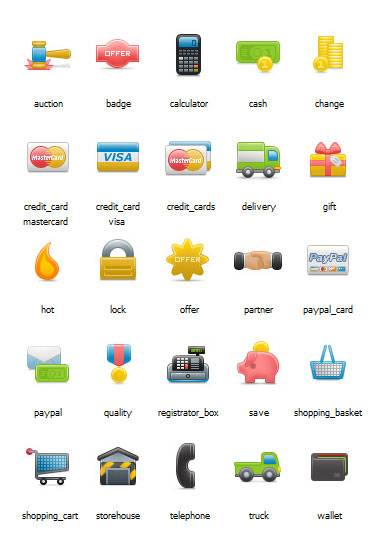 Download it here.
6. Fresh eCommerce Vector icon set from Xooplate
Fresh new style of eCommerce icon set from Xooplate with various icons for Shopping Carts, Payment Cards, Download, Share, or FAQ icons. These icons are colorful enough so that it can be easily identified on the display screen. And has a good contrast with any background color.
Download it here.
7. Impressive eCommerce icons by iconshock
eCommerce icon set by IconShock will look good in any store background as these have rich and impressive details. The set includes the Shopping Cart, Bag, Payment Option icon and Inbox. These icons are available with size optimization option and different formats so you can choose one for your personal or commercial projects.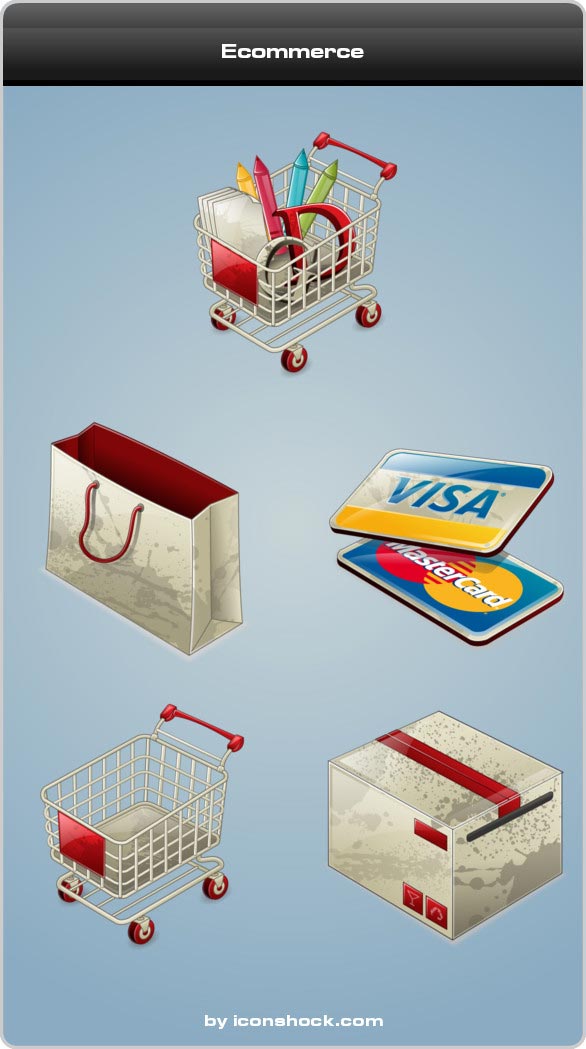 Download it here.
 8. Free eCommerce icon set by ZQ
Free 25 eCommerce icon set designed by ZQ. The set includes simple but high quality and usability icons in one color for better  recognition. This free eCommerce icon set includes 1 Dollar icon, 10% Discount icon, 24/7 Support icon, Add to Cart icon, Add to shopping basket icon, cart icon, carton icon, Decrease in sale icon, Delivery Icon, Dollar Icon, Dollar Sack Icon, Euro Icon, Free Badge Icon, Gift Box Icon, Increase in Sale Icon, Payment Notification icon, Pound Icon, Shopping Basket Icon, Sold Icon, Undo Shopping icon, Yen icon. Available in 48, 72, 128, 256 px sizes. Also available in Premium Version for only $2.00.
Download it here.
9. Free eCommerce Icon Set for all Online Businesses by Billy Barker
eCommerce icon set that you can use to assist you in your personal or commercial projects in PNG format. This set was created for Onextrapixel and for its readers. These icons have simple solid colors so that they can be used within any design or color scheme. The set included the Shopping Cart icon, Price Tag icon, Arrows, Download icon, Gift icon, Home icon and many more.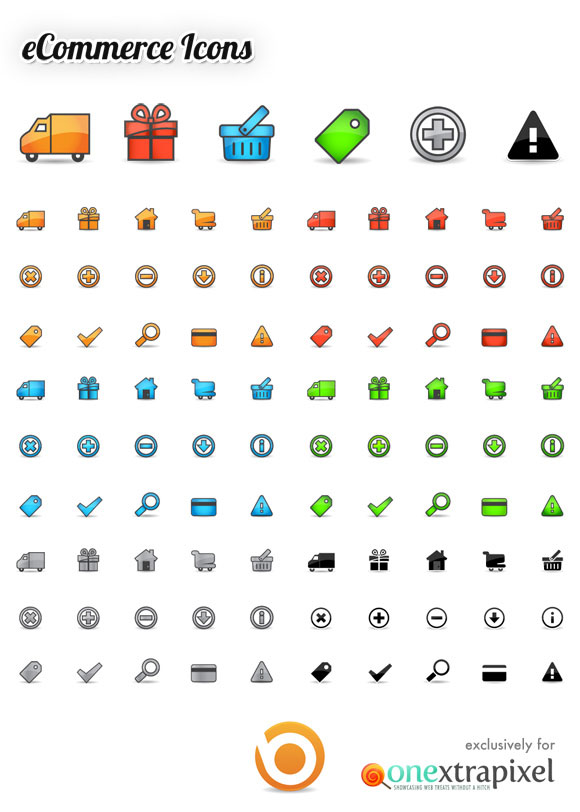 Download it here.
10. eCommerce glossy icon set by IconShock
These free glossy icons with just the right colors and style will help navigation on your eCommerce store to be as easy as it can be. This icon set is created by some people in IconShock for Hongkiat readers which you can also download for your own personal or commercial projects. It consists of 21 different eCommerce related icons including Payment icon, Lock icon, Sale icon, Gift icon and Money icon. Available in high-quality formats.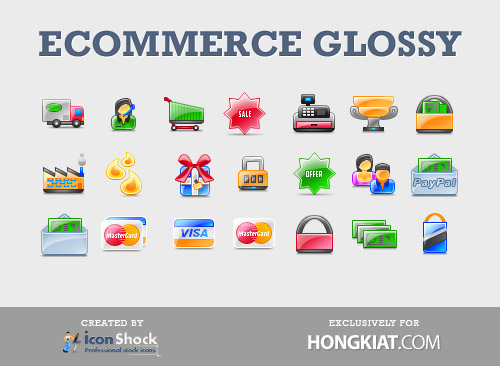 Download it here.
 11. Weby icons by Asher Abbasi
Asher Abbasi created a set of 100 free icons at 64 x 64 pixels ready to be used for your eCommerce stores or applications. These icons are especially made for IconsPedia and its readers. These clear and neat icons have the right size and color for a good usability and navigation on your eCommerce store. They're available in PNG, ICO and ICNS format.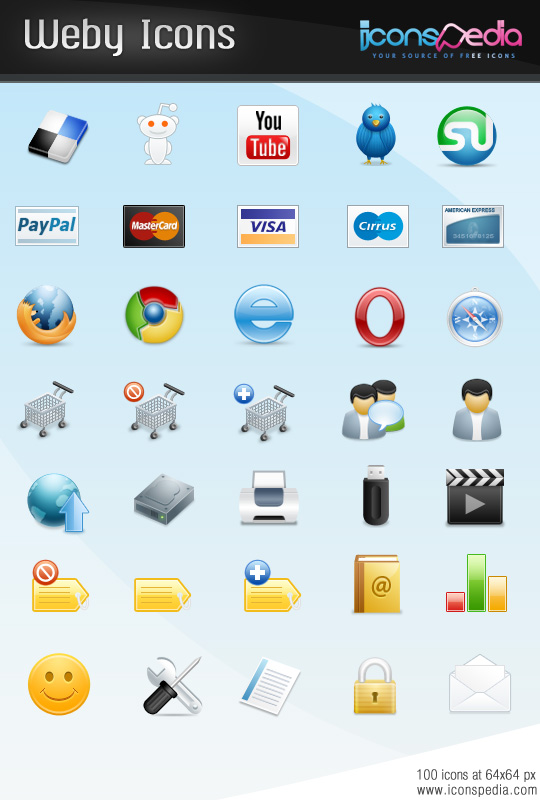 Download it here.
 12. Hand-Drawn E-Commerce Icon Set by Bharani M.
Beautifully made hand-drawn eCommerce icon set exclusively made for Hongkiat and its readers.  These are best used for creative and artistic eCommerce sites to complement its theme. Available icons are the Shopping Cart, Basket, Calculate icon, Gift icon, Notepad icon, Mail icon, Phone and Delivery. These can be downloaded and used for personal or commercial projects. They come in 3 different sizes – 64×64, 128×128 and 256×256 pixels in .PNG 24 bit format so you can choose one that fits well on your store.
Download it here.
Photo by: Freepik from rawpixel.com